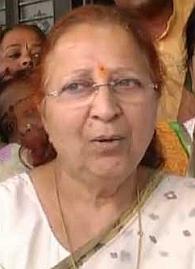 Sumitra Mahajan, senior Bharatiya Janata Party leader and one of the most experienced Parliamentarians, looks set to be the next Lok Sabha Speaker.
According to sources, the 71-year-old leader from Madhya Pradesh has been sounded by party chief Rajnath Singh about the new assignment.
The election for the Speaker will take place on Friday and the party is likely to make the formal announcement about the nomination anytime now.
If elected, Mahajan will be the second woman to hold the key position after the outgoing Speaker Meira Kumar.
Mahajan has never lost the Lok Sabha elections since 1989 and was elected from Indore for the eighth time in the just-held polls by a margin of 4.67 lakh votes.
She was a minister of state in the Atal Bihari Vajpayee government from 1999 to 2004.
The weeklong first session of the 16th Lok Sabha started on Wednesday on a sombre note with the House paying homage to Union Minister Gopinath Munde who died in a road accident. The House adjourned for the day after paying homage to the departed leader.
President Pranab Mukherjee will address a joint sitting of Parliament on June 9 and the week-long session will end on June 11.

Image: Senior BJP leader Sumitra Mahajan