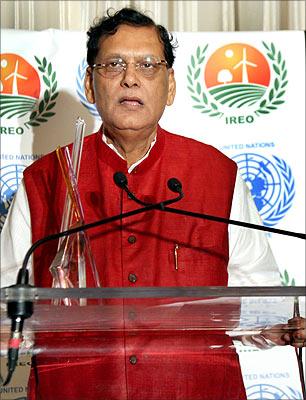 Bindeshwar Pathak, founder of Sulabh International that runs public toilets in India, was honored by the Intergovernmental Renewable Energy Organization at the United Nations headquarters in New York on Thursday for developing low cost toilet technology to produce energy out of human excreta.
Pathak received the award from Hollywood Actor Darren Moore at a gala function organized by IREO that has the de facto status within the United Nations. A large number of actors, ambassadors and technical experts were present on the occasion.
While accepting this award, Pathak said that 'this kind of honor at UN is giving global recognition and acceptance to ideas and efforts of Sulabh which otherwise would have remained buried as demonstration projects, without being replicated and being of any use for the benefit of society.'
 "This award means a lot to us because it represents appreciation of the work Sulabh is doing for improving and uplifting the socio-economic and environmental status of communities," Pathak told rediff.com.
"This award will spur the organization to strive to render service with greater zeal in the field of sanitation, particularly recycling of human waste," Pathak said.
Sulabh has designed and promoted a toilet system that organically breaks down human excreta into trapped biogas that can be burned to provide cooking fuel and electricity. Pathak, along with his team, has developed an indigenous two-pit toilet technology which is not only cost effective but also produces biogas. According to Pathak, recycling and reuse of human excreta for biogas generation is an important way to get rid of health hazards.
Sulabh is the pioneering organization in the field of biogas generation from public toilet complexes. After a series of experiments, the organization developed a more efficient design of biogas plant that has been approved by the Ministry of Non-conventional energy.
In his speech at the UN Pathak said the continuous and uncontrolled use of conventional fossil and geochemical sources of energy has resulted in its fast depletion and consequently continuous price rise of petroleum products.
He reminded the audience at the UN, where he was given the honor, that fossil fuels will not continue much longer to meet the world's energy needs.
'There is lack of availability of adequate energy to meet the minimum needs of people in peri-urban, slums and in rural communities. Due to lack of fuels, people spend most of their valuable time to collect firewood for cooking in rural communities,' he said.
'Countless man-days are lost resulting in stagnation of progress and productivity in such communities,' he added.
Robson Mello, IREO secretary general, was quoted as saying that Sulabh International was chosen for the honor because of Pathak's 'incredible strides' in promoting and changing the standards of sanitation in India as well other parts of the globe.
Image: Dr. Bindeshwar Pathak, Chairman of Sulabh International, speaks at the United Nations in New York. Pathak is one of the 12 receipients of 2009 Renewable Energy Awards.
Photograph: Jay Mandal/On Assignment