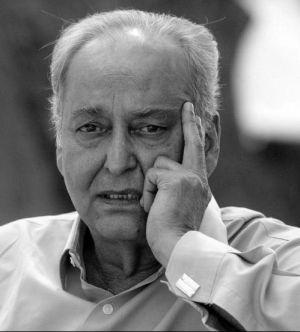 Actor Soumitra Chatterjee is yet to come to terms with the death of Students Federation of India leader Sudipto Gupta on Tuesday in controversial circumstances while in police custody.
The legendary man of the silver screen spoke to rediff.com's Indrani Roy over the phone on Thursday evening.
Excerpts:
"I am shocked. What happened with Sudipto is barbaric. I am stunned by the callousness of the administration. I am in no position to comment on what actually happened on Tuesday afternoon. I was not there.
But one thing I am quite certain about: Sudipto died in police custody. Therefore, police and administration can, by no means, shrug off their collective responsibility.
A probe has been ordered and unless and until the results are out, I can't say for sure if police had actually tortured him. But, what hurts me is that Chief Minister Mamata Banerjee has been consistently jumping the gun.
And today, I heard she said Sudipto's death is a petty issue.
Such a remark is not only inhuman, it's cruel.
A life is lost, it's an issue of grave concern. How can the chief minister term it trivial?
And why is she always in a hurry to make a comment after an incident?
Be it the Park Street rape case, or a similar episode at Katwa area of Bardhaman district, she makes a hurried statement. I find this preposterous.
Banerjee is the administrative head of our state. Every word she utters is of great significance. She has to think twice before making such 'casual' observations.
As a direct fallout of Sudipto's death, many people are saying that students should be barred from getting involved in politics. I don't agree with them.
Students who intend to take part in politics must do so. It is their democratic right.
The onus rests on the state and the government to provide security to the people.

You can't keep off the roads to avoid getting mowed down by the traffic. It's the state's job to lay out an effective traffic network. It's a citizen's fundamental right to enjoy safety and security.
If a government fails to protect its people, it has no right to governance."