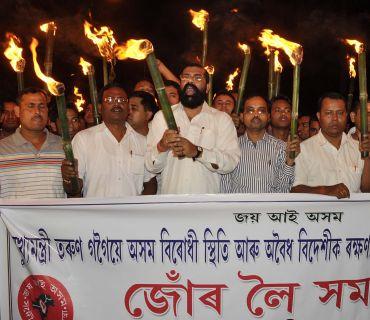 The All Assam Students' Union took out a torchlight procession in Guwahati city on Friday evening to protest Assam Chief Minister Tarun Gogoi's advocacy for sparing migrants who crossed the border to escape persecution in their country.
Tarun Gogoi said that these migrants should not be prosecuted in India on humanitarian grounds.
Gogoi also called for a debate over the issue even as his government has formally made a request before Prime Minister Dr Manmohan Singh in this regard.
Gogoi said he was referring to migrants from all religions who had faced persecution in their homeland, unlike the Sangh Parivar that demands refugee status only to Hindu migrants driven out of their motherland because of persecution.
Gogoi's comment has stirred a hornet's nest in Assam which is reeling under unabated illegal migration from Bangladesh.
The AASU leaders termed Gogoi's comments and suggestion were part of a ploy to give citizenship to all illegal migrants coming from Bangladesh.