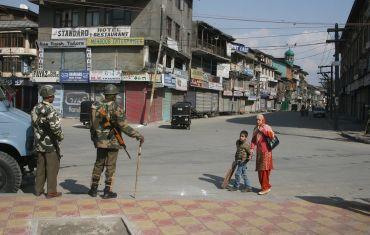 Life across the Kashmir valley was affected on Wednesday, the first day of the three-day strike called by the separatists to press their demand for return of the mortal remains of Parliament attack convict Afzal Guru.
Afzal was hanged in Delhi's Tihar jail on February 9 and his body was buried inside the jail premises.
Wednesday's strike closed shops, businesses and public transport in capital Srinagar and other towns. The attendance in government offices, banks was also affected due to the strike.
However, skeletal private transport plied on the streets in capital Srinagar where thousands of police and paramilitary central reserve police force troopers have been deployed by the authorities to maintain law and order.
"In view of law and order situation and to avoid breach of peace and tranquillity besides damage to life and property restrictions under Section 144 Cr PC in entire Srinagar have been imposed with immediate effect till further orders," the district magistrate Srinagar said in a statement.
The hard-line separatist leader, Syed Ali Shah Geelani had called the two-day strike to press the demand for the return of mortal remains of Guru for burial in the Kashmir valley.
The pro-independence, Jammu and Kashmir Liberation Front has also called for a strike on Friday.
An independent MLA from north Kashmir, Engineer Abdul Rashid plans to move a resolution in the upcoming assembly session in Jammu for return of the mortal remains of Guru.
Rashid had recently called an all party meeting in Srinagar to discuss the issue which, however, fell through as most of the parties did not attendant the meeting.
Sources say that the Centre was unlikely to return the Guru's body in view of the sensitivity of the issue.
Issuing a protest calendar on Monday, Hurriyat Conference led by Syed Ali Shah Geelani, who is under house arrest in Delhi, said that complete civil curfew will be observed on Wednesday and Thursday, while a shutdown will be observed after Friday prayers followed by peaceful protests.
While shops and business establishments in the commercial hub of Lal Chowk remained closed, they were open in most areas of the Valley.
Though public transport remained off the roads in most of the major towns, it plied in Lal Chowk and the adjoining areas. Private cars were plying normally on all the major routes.
In the suburbs and other districts of the Valley, life was near normal as the strike call failed to evoke much of a response in these areas.
Government offices and banks remained open, while schools remained shut on account of the on-going winter vacations.
Hundreds of policemen donning riot gear were deployed in the sensitive areas in Srinagar and other towns to thwart any possible protest.
Authorities on Tuesday imposed restrictions under Section 144 CrPC in Srinagar apprehending law and order problems in view of the three-day strike called by the separatist group.
"According to District Magistrate Srinagar, Baseer Ahmad Khan, in view of law and order situation, restrictions under Section 144 CrPC have been imposed in entire district Srinagar with immediate effect till further orders," an official spokesman said.
He said the restrictions have been imposed to avoid breach of peace and tranquillity, besides loss of life and damage to property.
With inputs from PTI
Photograph: Umar Ganie/Rediff.com