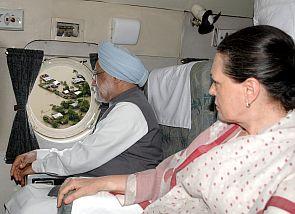 Prime Minister Manmohan Singh and Congress President Sonia Gandhi on Wednesday made an aerial survey of rain-ravaged areas in Uttarkhand where flash floods have claimed over a hundred lives and left thousands of pilgrims for Himalayan shrines stranded.
The situation created by the heavy rains and floods in the state was discussed at the Congress Core Group meeting on Wednesday morning.
Finance Minister P Chidambaram told reporters after the meeting that the situation in Uttarakhand is better than what it was on Tuesday and Food Minister K V Thomas is taking steps to rush more food grains to the flood-hit Uttarakhand and Himachal Pradesh.
"The objective is to ensure that food grains and food packets are available to the affected people. On the food issue, a number of decisions were taken," he said.

On the steps being initiated by the government to provide succour to the victims, Home Minister Sushilkumar Shinde said that IAF helicopters have been deployed to evacuate stranded people from Gaurikund in Uttarakhand while a control centre has been established in Badrinath. ITBP has given shelter to about 6,400 people at Joshimath, he said.
"Fourteen teams comprising 540 persons of National Disaster Response Force (NDRF) have been deployed in Uttarakhand. 62,790 people are stranded in Uttarakhand. 5000 people have been rescued by the Army," the Home Minister said.
Both Dr Singh and Gandhi had on Tuesday written to Uttarakhand Chief Minister Vijay Bahuguna and the government has assured him all assistance in rescue and relief operations.
Gandhi, who had also spoken to Shinde and Himachal Pradesh Chief Minister Virbhadra Singh, has sought "timely and prompt" relief measures in the two states.
Shinde said that Gandhi and the Prime Minister will be undertaking the aerial survey this afternoon.

The Prime Minister had on Tuesday directed agencies of the central government to assist in rescue and relief operations.
The Congress President had on Tuesday asked the two chief ministers and the home minister to ensure that arrangements for communication and travel were made for the stranded tourists and visitors from other states.
"The (Core Group) meeting was confined to the emergency relief operations in flood-affected areas... We were briefed about the various relief measures by both the Home Minister and the Food Minister," Chidambaram said.
He said that while food grain stocks are available in both Uttarakhand and Himachal Pradesh, the food minister is taking steps to rush more food grains for these states.
A statement on the relief measures will be made by the Prime Minister's Office, he said, adding that the situation is better and some roads have been reopened by the Army, ITBP and the Border Roads Organisation.

"The number of people evacuated would by now be 10,000. The relief operations are underway," the Finance Minister said.