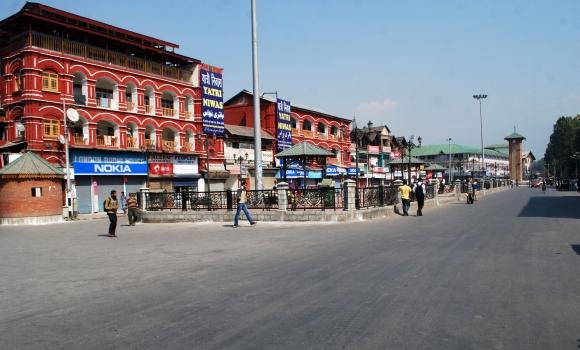 Normal life was affected in Srinagar and others parts of the Valley by a protest shutdown on Monday, which was called by separatist leaders to protest a recent ruling by the Jammu and Kashmir high court -- that life imprisonment meant incarceration for the remainder of the convict's life, not only the period of 14 years that is usually observed in the rest of India.
 
Senior separatist leader Syed Ali Shah Geelani had appealed to the people to participate in a protest shutdown against the high court's decision.
 
Dr Mohammad Qasim Faktoo, a senior separatist leader who had been in prison for 20 years after he was given the life sentence by a trial court, had petitioned the high court for release. Faktoo, who was convicted for the killing of prominent human rights activist H N Wanchoo, had stated in his petition that he had completed 20 years in prison in May this year.
The high court's ruling comes in response to the plea by Dr Faktoo.
 
The strike has been supported by the Pro-Independence Jammu and Kashmir Liberation Front, the Muzaffarabad based United Jehad Council and the Lashkar-e-Tayiba.
 
Markets,  business establishments and educational institutions remained shut in Srinagar and other major towns of the valley. Attendance in government offices and banks was affected because of non-availability of public transport.
 
Authorities have deployed contingents of police and paramilitary Central Reserve Police Force at vulnerable places to ensure law and order. No untoward incident has been reported from anywhere so far.
 
Monday's strike coincided with the strike by valley transporters to demand a hike in passenger fares.
Image: Lal Chowk in the heart of Srinagar wears a deserted look on Monday | Photograph: Umar Ganie