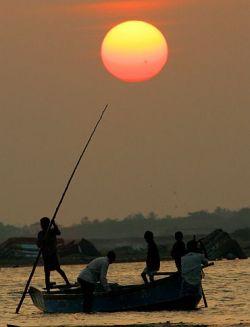 Sixteen fishermen of Rameswaram and their four boats were detained on Monday allegedly by Sri Lankan naval personnel when they were fishing near the islet of Katchatheevu.
They were part of a group of 170 fishermen who had set out to sea in 680 boats on Monday morning.
The Lankan naval personnel after detaining the fishermen, also cut the fishing nets of some boats and warned them against venturing to the area for fishing, Rameswaram Fishermen's Organisation President S Emerite and Pamban Fishermen's Organisation president S Armstrong Fernando said.
The detained fishermen along with their four boats have been taken to Thalaimannar Naval camp and lodged there, they claimed.
Image: Fishermen row a boat at sunset in Nagaipattinam, Tamil Nadu
Photograph: Reuters