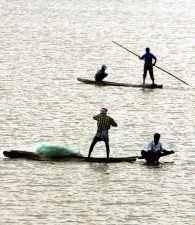 Two courts in Sri Lanka on Monday ordered the release of 163 Tamil Nadu fishermen, arrested by naval personnel of the island nation in the past two months and lodged in prisons there, a top functionary of the local fishermen's organisation said.
S Emerite, President of Rameswaram fishermen organisation said a court in Mallagam ordered the release of 50 fishermen of Jegathapattinam. Twenty of them were arrested on November 20 and and 30 on December 11, he said.
While 20 of them would be released today, the others would be released on Tuesday, he said.
Another court at Trincomalee ordered release of 111 fishermen of Nagapattinam. All of them were produced in court on Tuesday following which the magistrate passed the order, he said.
The 111 fishermen were arrested on December 11 while they were fishing near Kodiakarai and were lodged in a prison in Trinconamalle.
Another 32 fishermen from Karaikal, arrested on January 17 this year near Kodiyakarai, were also produced in the Trincomalee court, following which the magistrate ordered their release, he said.