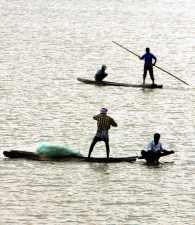 In continuing instances of arrests of Tamil Nadu fishermen by Sri Lankan Naval personnel, seven of them from a coastal village in Nagapattinam district were arrested while fishing near Kodiyakari, a fishermen's organisation official said on Friday.
"The seven fishermen with their one boat have been taken to Trincomallee from where they will be produced in court. This is among a continuing series of arrests by Lankan naval personnel," said U Arulanandam, president of Pamban Innocent Fishermen Organisation. The seven fishermen were arrested on Thursday night, he said.
He said the 22 fishermen arrested near Katchatheevu on June 18 were on Friday produced before a court in Mannar, which remanded them to judicial custody till June 27. The series of arrests had led Chief Minister Jayalalithaa writing to Prime Minister Narendra Modi, seeking the immediate release of the fishermen.
In her letter on Thursday, she had slammed Sri Lanka for arresting 46 fishermen which she termed as a "belligerent act" and urged Modi to secure their immediate release along with 11 detained boats.
Twenty-four fishermen in six mechanised boats from Kottaipattinam were nabbed on June 18 and in another incident 22 of them from Rameswaram were also taken into custody, taking the total arrests to 46.
Jayalalithaa had also renewed her plea for nullifying the 'unconstitutional' Indo-Sri Lankan Agreements of 1974 and 1976 and demanded that steps be taken to restore the traditional rights of Indian fishermen. She also reiterated her oft-repeated demand for retrieval of Katchatheevu islet ceded to Sri Lanka to protect the fishing rights of Tamil Nadu fishermen.