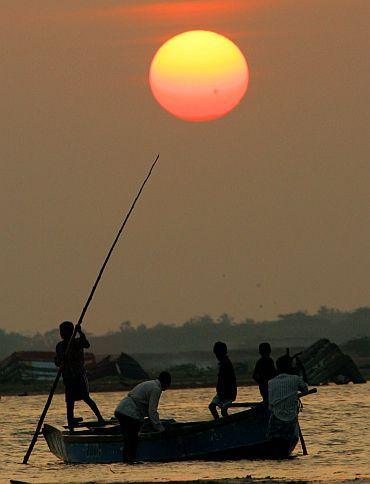 The Sri Lankan Navy has arrested another 11 Tamil Nadu fishermen late on Wednesday night, hours after they apprehended 36 fishermen hailing from a village in Pudukottai district while fishing near Neduntheevu and Katchatheevu islet, a fisheries department official said.
While the 11 fishermen were arrested at midnight, 36 fishermen were apprehended on Wednesday morning on charges of crossing International Maritime Boundary Line, Gopinath, assistant director of Rameswaram Fisheries department and T Sesuraja, Rameswaram Fishermen organisation president said.
The navy personnel, who came in ships, also fired in the air threatening the fishermen to leave the area. They also sank a mechanised boat worth about Rs 40 lakh besides damaging several crafts and fishing nets, they said.
All the arrested fishermen were taken to Thalaimannar and Kankesanthurai to be produced in courts.
Meanwhile, slamming Sri Lanka for arresting 47 fishermen from her state, Tamil Nadu Chief Minister J Jayalalithaa urged Prime Minister Narendra Modi to secure their immediate release along with 11 detained boats. "It deeply pains me to have to write to you yet again, bringing to your notice two separate incidents in which 46 Indian fishermen along with 11 boats from Tamil Nadu have been apprehended by the Sri Lankan Navy," she noted in her fresh missive to Modi.
Jayalalithaa renewed her plea for nullifying what she described as "unconstitutional" Indo-Sri Lankan Agreements of 1974 and 1976 and demanded that steps be taken to restore the traditional rights of Indian fishermen. She also reiterated her oft repeated demand for retrieval of Katchatheevu islet ceded to Sri Lanka to protect the fishing rights of Tamil Nadu fishermen.
She also reiterated that the Centre should not treat the International Maritime Boundary Line with Sri Lanka as a settled question as the constitutionality of the 1974 and 1976 agreements has already been challenged by her state in the Supreme Court.