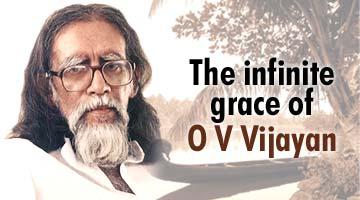 I wish to escape nothing,
Ravi answered from within his silence,
I want to be the sand of the desert, each grain of sand; I want to be the lake, each minute droplet. I want to be the
laya
, the dissolution.
From The Legends Of Khasak, 1969
I had heard about O V Vijayan long before I had developed the maturity to read him. When I was little more than an adolescent, a friend had spoken to me of his book-lined home in Delhi, where the gaunt, bearded writer worked for many years as a journalist and cartoonist for The Statesman, The Far Eastern Economic Review, The Hindu and The Mathrubhumi.
O V Vijayan: Guru of a whole generation
Another friend, who occasionally read to me in Malayalam from the works of Vaikom Mohammad Basheer and M T Vasudevan Nair, once veered off his habitually sedate literary course to narrate Vijayan's surrealistic short story about a wart on man's lip that grows monstrously until it consumes everything in a gluttonous blight.
Even in his detached telling, it had an eerie H G Wells-meets-Stephen King quality that, as an urban yuppie far removed from Kerala, I thought was 'cool'.
It was only much later at a book sale in Mumbai that I experienced the O V Vijayan effect all over again. A large bespectacled woman in a red sari who smelled faintly of dry ginger had picked up the only copy of Vijayan's Selected Fiction (DC Books-Viking, 1998). I am usually content to let chivalry reign and wait for a karmic opportunity to run into the same book again. But that evening, I found myself overcome by a curious mixture of brusqueness and charm, which I employed to full effect. I was soon standing in the checkout line inching towards the cash register, the excited sweat of my palms making shiny daubs on the book's dusty yellow jacket as I clutched it to my chest like a stolen treasure.
It turned out to be much more. My respect for Oottupulackal Velukkutty Vijayan grew enormously once I learned that he had translated much of his oeuvre into English all by himself. Until then, my fragmented mental collage of Kerala was composed mostly of memories of languid summer vacations, a smattering of scratchy black-and-white art cinema, and wisps of bittersweet poetry by Vayalar Ramavarma that seemed to float on waves of Radio Ceylon over whispering paddy fields fading into a firefly-lit dusk. The rest of the jigsaw pieces were figments I had created to fill the gaps.
And then, of course, there was Arundhati Roy, under whose spell I had been cast as an impressionable but overzealous dilettante smitten alternately with Granta and The Times Literary Supplement. Her brushstrokes of Ayemenem and the slime-green Meenachal river full of dead leaves and living fish -- both in faraway Kottayam to where I had hardly travelled -- had usurped my childhood memories of Malabar and the region the Malayalees of northern Kerala, nursing nostalgic vestiges of feudalism, remember as the erstwhile princely province of Walluvanad.
But as I read Vijayan -- I shall now call him O V, as Malayalees familiar with him do -- my Kerala changed colour. The English Marie flavoured visages that I had gained from reading Roy melted away. In Khasakinte Itihasam (The Legends of Khasak) -- O V's first novel, which was first published in a serialised form in The Mathrubhumi Weekly in 1968 and later in hardcover by Current Books in 1969, and which won the Odakkuzhal Award in 1970 and the Muttathu Varkey Award in 1992 -- I relived my nostalgia.
From my grandfather's house near Palakkad I can see a range of nameless blue hills of the Western Ghats. Between them lies the Silent Valley. Somewhere out there lies O V's mythical land of Khasak -- an El Dorado peopled with dark, bare-bosomed Adivasi women, a lovable parrot-lisping cretin named Appu, and their arrack-drunk, smallpox-stricken ghosts.
As a child I would leave Palakkad for Bangalore after my summer vacations by the night train, which would veer past the breathtaking Western Ghats towards Coimbatore. Some days, the hills would be ringed with forest fires. I would watch their glowering shapes with awe until the train gained speed and the wind stung my eyes to tears.
O V resurrected that Kerala for me. Reading Khasak brought to life every pastoral vignette, every roadside glimpse I had unconsciously salted away. He cemented in my memory the Mangalore-tiled roof of the Basel Mission and the tall gates of the Government Victoria College in Palakkad where he, like dozens of my relatives, had studied. He breathed everlasting meaning into the lambent gurgle of the Nila River as it rushed towards the estuaries of Ponnani on its bed of white sand.
Khasak is founded on a number of autobiographical elements. In 1956, the writer's sister O V Santha, a schoolteacher, was posted to Thasarak, a tribal hamlet near Palakkad. Since it was hard for a young woman to be on her own in a remote village, Vijayan's parents -- his father was a police officer -- moved into a rented farmhouse there. Vijayan, who had been sacked from his job as a college lecturer for his Marxist leanings, joined them in Thasarak. Infused with the Communist spirit that then pervaded Kerala, Vijayan published two long stories depicting imaginary peasant uprisings in Palakkad. A comrade commented that while they were good, they could use a little more inquilab (revolution).
'Looking back, I thank Providence, because I missed writing the 'revolutionary' novel by a hair's breadth,' Vijayan wrote in the epilogue to Khasak. 'Had I written it, I would have merely made one more boring entry in Marxism's futile, repetitive bibliography.'
His 'Stalinist claustrophobia' was broken. 'Destiny was in command, Khasak was waiting,' he wrote. He wrote about his affable protagonist Ravi, evidently himself, a schoolteacher who comes to teach in the hamlet of Khasak. He wove palpable characters into the fabric of his tale, and for many years after the novel was written, Thasarak drew among its visitors both the sceptical and the curious, who came there charmed by its magnetic allure.
O V went on to write Dharmapuranam (translated into English as The Saga of Dharmapuri), the deeply moving Gurusagaram (The Infinity of Grace) -- for which he won the Vayalar Award in 1991, and plenty of flak for his spiritual leanings -- and several other novels, short stories and essays. With my infinitesimal knowledge of Malayalam, I have been able to read only the English translations.
It is not hard to find in O V's writing a dreamlike echo of Gabriel García Marquéz. His style has indisputable elements of magic realism and an unquestioning acquaintance with the supernatural. He is at once rustic and urbane, and always compassionate, mystical and erotic. His translation in English, though he admits his inadequacies, is equally stellar.
It was ironic, then, that as I read Marquez's Of Love and Other Demons on my way to work yesterday morning, I learned that O V, who had been ailing for some time at a Hyderabad hospital, had breathed his last. He would have turned 75 on July 2.
Last August in Mumbai, while the monsoon emptied its lungs in one final gasp outside my window, my bookshelf was besieged by an insidious swarm of termites. Invisibly, they ate their way through many of my books. On the top shelf, which was most brutally hit, was my hard-won copy of O V's Selected Fiction. One week later, by the time I could rescue it, the insects had bored deep furrows into its margins and sawn out chunks of its hardcover. Miraculously, the words remained intact. Just as O V's memory will be.
Photograph Courtesy: Malayala Manorama
Image: Uday Kuckian