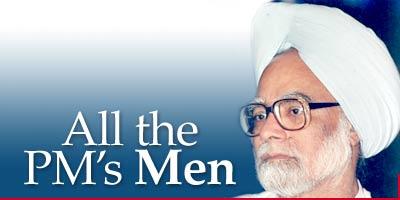 Dr Manmohan Singh, like his predecessors, will rely a great deal on the Prime Minister's Office.
The PMO is headed by the principal secretary to the prime minister and includes the anti-corruption unit and the public wing dealing with grievances.
A look at the key figures in Dr Singh's PMO.
Principal secretary to the prime minister: T K A Kutty Nair
This 64-year-old former IAS officer from the Punjab cadre once turned down the job of chief vigilance commissioner.
Nair, who was born in Kerala and speaks Punjabi fluently, is no stranger to the PMO, having served Inder Kumar Gujral during his short tenure. He is no stranger to Dr Singh either, having worked with him at the Centre for Research in Rural and Industrial Development.
This non-controversial former chief secretary of Punjab is also acceptable to Congress allies, especially the Left.
"He will do what he is supposed to do," says a senior IAS officer who has worked with him.
A tough civil servant, Nair reputedly does not find much charm in small talk.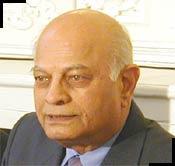 Predecessor: Brajesh Mishra
Some believed Mishra -- a former IFS officer and son of Dwarka Prasad Mishra, the former chief minister of Madhya Pradesh -- ran the country when Atal Bihari Vajpayee was prime minister. In addition to being principal secretary to the prime minister, Mishra was also the nation's national security adviser.
Joint secretary in the PMO: Pulak Chatterjee
Chatterjee -- Congress president Sonia Gandhi's personal secretary when she was leader of the Opposition in the Lok Sabha -- is expected to play an important role in the PMO.
For one, Sonia trusts him a lot.
Chatterjee could not remain a member of Sonia's office because she no longer has Cabinet rank (a status which the leader of the Opposition enjoys).
According to a Congress leader, Chatterjee will coordinate between 10, Janpath, where Sonia lives, and 7, Race Course Road, Dr Singh's home.
According to officials who know him, Chatterjee gets his work done without being pushy.
Predecessor: Ashok Saikia
Close to Vajpayee -- Saikia has known the BJP leader since he was in college -- the additional secretary rank IAS officer was a powerful influence during Vajpayee's tenure.
Even if the Vajpayee government had won another term in office, Saikia would not have remained a member of the PMO. The Vajpayee government nominated him as executive director of the Asian Development Bank in Manila.
But Finance Minister Palaniappan Chidambaram has reportedly stalled Saikia's posting.
A fine photographer, Saikia took numerous photographs of Vajpayee on vacation and in Mumbai, when he underwent knee surgery.
Special adviser to the prime minister: M K Narayanan
One of independent India's finest intelligence officials, Narayanan served under several Congress governments, He will bring to his job a deep understanding of the country's complex security challenges and compliment National Security Adviser J N Dixit.
A member of the 1958 IPS batch, Narayanan was director of the Intelligence Bureau in 1989-1990 and then again in 1991-1992.
Some intelligence officials told this correspondent that Narayanan has a depth of knowledge and a network that his predecessor, former Research and Analysis Wing chief A S Dulat, a member of Vajpayee's PMO, did not have.
Narayanan is expected to coordinate between the home ministry, defence ministry and the intelligence agencies and play midwife to several concepts and organisations that are in the pipeline.
Several post-Kargil recommendations await his attention. The lack of coordination between the intelligence agencies and the damage caused to RAW's reputation by recent events will also come under his purview.
To maintain the momentum in the Kashmir peace process, the services of IAS officer Wajahat Habibullah, whose family has an old association with the Nehru-Gandhi family, may be requisitioned.
Predecessor: A S Dulat
Vajpayee appointed the former RAW chief to look after Kashmir affairs. With his perseverance, he got the All-Parties Hurriyat Conference to enter into a dialogue with the Centre.
Minister of state in the PMO: Prithviraj Chavan
The elevation of the affable, sophisticated and approachable Congressman from Maharashtra is not just credited to his family's political connections -- his father Dadasaheb Chavan, his mother Premilatai Chavan and he have all represented the Karad Lok Sabha seat, the only father, mother and son to do -- but also to his efficiency and intelligence. The US-educated, BITS Pilani alumnus is also a successful businessman.
He will have the challenging tasks of monitoring implementation of the Common Minimum Programme, coordinating with various political allies, 10, Janpath and the large number of senior Congress leaders who are staying out of the Council of Ministers to look after the party.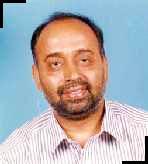 Predecessor: Vijay Goel
The former member of Parliament from Chandni Chowk in Delhi is not in the same league as Chavan.
Media adviser: Sanjay Baru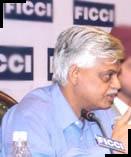 The editor of The Financial Express is expected to take over the roles  Ashok Tandon and Sudhendra Kulkarni played in the Vajpayee PMO. He will play a very critical role in shaping Dr Singh's public image. A respected journalist with a doctorate from Jawaharlal Nehru University, Baru has worked for several leading newspapers and was a member of the last National Security Advisory Board.
Predecessors: Ashok Tandon
Tandon, a former journalist with the Press Trust of India in London, was always accessible.

Sudhendra Kulkarni
Credited with writing many of Vajpayee's musings and speeches, Kulkarni made the effortless ideological transition from being a Leftist to being on the other angle of the political spectrum.
The IIT-Bombay alumnus worked for The Sunday Observer and The Observer of Business and Politics before moving to Blitz. He worked with the Hindujas before moving to New Delhi as an ideologue for the BJP.
On occasion, Kulkarni served as Vajpayee's emissary when the National Democratic Alliance was rocked by crises.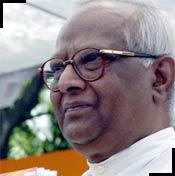 National security adviser: J N Dixit
Though 'Mani' Dixit is not strictly part of the PMO, his predecessor Brajesh Mishra was also  principal secretary to the prime minister. This caused the post to be identified with the PMO.
Dixit has served as foreign secretary and is expected to take over the negotiations with China on the border dispute.
Among the other challenges awaiting him:
- To convert the National Security Advisory Board and other bodies into the nation's primary source of independent opinion on security and strategic affairs.
- To create a credible nuclear command and control and get the armed forces to shed their turf battles over nuclear assets.
- To make sure that India is a little more assertive in its dealings with the United States.
Predecessor: Brajesh Mishra
He played a critical role articulating India's position in the post 9/11 world, India's growing economic desires and formulating India's relations with Israel.
He helped shape the Vajpayee government's policies for South Asia.
Despite criticism from the Rashtriya Swayamsevak Sangh, he remained Vajpayee's closest adviser.
The common factor between this and the previous PMO:
Like his mentor P V Narasimha Rao -- who had the brilliant IFS officer Ramu Damodaran as his personal secretary -- Dr Singh too has a fine IFS officer as his PS. He has, in fact, retained Vikram Doraiswamy as his personal secretary. Doraiswamy -- who served in China and speaks fluent Mandarin -- will coordinate Dr Singh's daily routine.
Image: Rahil Shaikh