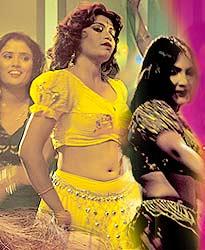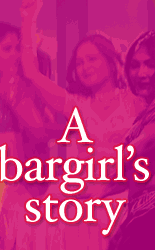 Part I: A peek into Mumbai's ladies bars
Suman, who is slim and around 5 feet 6 inches, came to Mumbai as an 11 year old in 1992.
When this correspondent met her at her home in a middle-class housing colony in the northwest suburb of Malad, where she stays with her husband, his brother and one of her cousins, she appeared shy.
Her house has everything that a middle-class house has, and although her brother-in-law knows what she does, she was not comfortable discussing her work in front of him.
She knows she was born somewhere near Kolkata, and that she grew up in that city.
"We are six sisters," she said. "Our father didn't allow us to go to school. He used to tell us that girls should go out and work, that education is no use to them. When I was around 10 years old, a couple of my sisters and I started working in a nearby factory on a salary of Rs 80 per month."
While working in Kolkata she came in contact with a Nepali family, who promised her a good job in Mumbai. Her father was not very keen, but she ran away with the Nepalis.
What she did not know at that time was that the family used to bring girls like her to Mumbai and sell them to the highest bidder.
"I went with them because I was very tired working in that factory. I had to walk around 2 km to get to it and by the time I came back I used to be absolutely exhausted."
In Mumbai, the family kept her and 15 other girls in a small room in the northeast suburb of Mulund. "They told us to improve our dress sense. We did not know what we had to do.
"One day they dressed us and took us to the floor of a ladies bar, where many girls were dancing. I was shocked. That night I cried a lot."
The bar owner, with whom the family left her and the other girls, kept them in a rented house nearby.
Suman couldn't adjust and ran away after a month.
"I escaped from there with two other girls in an autorickshaw. We were not sure where to go. All we knew was that we had to leave that place. That night we reached a slum in Goregaon (another northwest Mumbai suburb) and knocked on a door for help. A lady opened the door and gave us accommodation. The very next day the Nepali family came to us. We were shocked. After some time we got to know that the lady was their friend. The family left after some time and in the evening that lady told us they had sold us to her."
The lady again sent Suman and the other girls to work in a bar.
They had to give to the lady a fat cut from their earnings.
But Suman managed to save some money and at an opportune moment, ran away from there also.
Predictably, she landed up in another bar.
Then her life took a major turn.
One day, when she was shopping in a market in Malad, a scooter ran into her. She slapped the scooterist.
"The man followed me. After some days he got to know I was a bar dancer. He was interested in me, and we soon got married."
Now after a few foreign trips, Suman has helped her husband set up a small restaurant near their home.
"Just after the marriage I went to Bahrain on a four-month contract. It was my first trip abroad. Over there I got to know that I was pregnant. I did many traditional things to abort, because in Bahrain we were not allowed to visit doctors, but nothing happened. I didn't inform anyone about it because it could have could affected my image.
"I didn't want a child then because I was not certain about my future. A few months after I returned I gave birth to my son. I decided then that I would educate him well."
Suman went for her second foreign trip when her son was six months old. He is seven years old and studies at a boarding school in Pune.
"I have a family, house, car. I plan to have my own boutique. I will continue in this profession till I am fit. Once I become old I wouldn't have anything to do. So I have to save something for the future," she said.
In Mumbai Suman spends all her money shopping. "During foreign trips we manage to save a lot because there we don't have the option of going out freely. And if we escort someone, that person buys us dresses and gifts."
Also read: 'You know what kind of place this is, right?
STEP into a ladies bars and the cacophony hits you right in the face. There is generally a platform in the middle where the girls dance and sofas around it, where the customers sit, drink and throw money at them.
There is no such thing as salary for the women. They get a share of whatever the customers shower on them.
The woman who makes men dip into his pockets often gets more respect -- and more money -- from her employer.
Abdul Karim Telgi, the main accused in the multi-crore stamp paper scam, once showered Rs 93 lakh (Rs 9.3 million) on a bargirl in a single night.
The girls are good dancers and they wear anything from Western attire to saris. The music ranges from Bollywood to Vengaboys.
The owners take responsibility for the ladies and the patrons are not supposed to touch them while they dance.
There are also various kinds of bars.
In some the women just dance. But some also function as pick-up joints, where the patrons can choose a woman from the dance floor.
There is also something called a 'silent bar,' where the lights are so dim that it is difficult to see one's hand. Here the women, who are generally older and not very pretty, offer oral sex.
To get a first-hand experience, I went to a bar in the northwest suburb of Borivili with Suman and Varsha Kale, founder of the Bharatiya Bargirls Union.
Suman used to dance in this bar, but as a customer it was her first time there.
The owner was a friend of Kale and he arranged a seat for us.
There were 15 girls dancing in front of the customers.
Many of them knew Suman and Kale and they greeted them from a distance.
The patrons were mostly over the hill and were doling out money to the women.
Suman, too, starting handing out money. She handed Rs 50 notes to every woman on the dance floor and the barman.
The owner sent tea for us, which we finished and left.
Asked why she had spent so much money, Suman said, "For enjoyment. That is the way to enjoy in a ladies bar."
She had spent Rs 2,500 in 20 minutes.
Headline Image: Rahil Shaikh