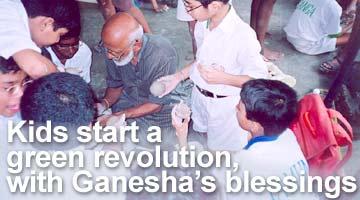 We have our own homemade Ganesha idol this time. I will not immerse it. I will keep it with the idols of the other gods at home throughout the year," says Jahnavi Snehi.
Jahnavi, a seventh standard student, is one of the many enthusiastic participants at the eco-friendly workshops organised every year during Ganesh Chaturthi by the Jidnyasa [curiosity] Trust.
The trust has been conducting science workshops, adventure tours and, nature trails for children since 1992.
Jahnavi is just one among the increasing tribe of youngsters in Thane bitten by Jidnyasa's conservation bug and is doing her bit to reduce the environmental damage caused by widespread idol immersion in the city's lakes.
The children are making Ganesha idols with clay at home with help from volunteers. "Jidnyasa has been working since many years on this project," says trustee Sunita Dighe. "This year the campaign was launched on August 15 and we have held eight workshops for students since then."
The kids have participated enthusiastically in idol-making workshops and competitions held by the volunteers. Idol-modelling competitions are part of the drive to encourage children to employ their imagination in creating Ganesha images at home using organic materials and dyes. The NGO has also conducted Ganesha modelling workshops in various schools.
In 1998, Jidnyasa made a presentation on the effect of idol immersions at a children's congress in Chennai. The trust's report showed that more than 4,000 idols on an average were being immersed in Masunda Lake in Thane district every season, polluting the water and affecting the lake's ecosystem. Studies have also shown that immersions have been reducing the depth of the lakes in Thane each year.
Taking off from there, Jidnyasa started organising workshops in schools and building compounds. Says Dighe, "We are getting more and more young people to participate in our programmes each year. We hope they will learn the importance of conservation and follow it throughout their life."
Jidnyasa has also been carrying out cleanliness drives in Thane after every Ganesha festival with the help of school and college students since the last three years.
Another ace up its sleeve, which is proving to be a big hit among the children, is "bucket immersion". Jidnyasa introduced them to the advantages of immersing their idols in buckets of water, which can later be used to water plants.
And how are parents taking this quiet revolution? The feedback has been encouraging, says Dighe. "Since parents are emotionally attached to their children's work and behaviour, we hope they will encourage it and follow it themselves."
Next, the trust wants to promote metal Ganeshas, which can be kept at home after the festival season. But convincing people to preserve the idols instead of following the traditional immersion ritual, admits Dighe, is no child's play.
Photograph: Vijay Singh | Headline Image: Rahil Shaikh