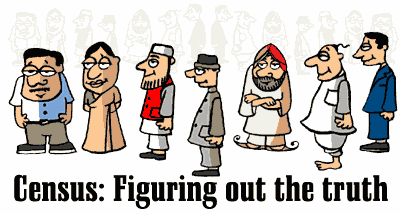 It is the kind of data that politicians love and researchers warn against misinterpreting: the census data according to religion that was released in New Delhi on September 6, 2004, by Professor Ashish Bose, one of India's foremost demographers with many books on the subject to his credit.
There are two particular figures that have already been seized by politicians, especially those who love to believe that in the years to come Muslims will outnumber Hindus in India.
The figures are stark: Hindus as a proportion of India's population have decreased by 2.9 per cent in the last four decades from around 83 per cent to over 80 per cent; conversely, the Muslim population has risen by 2.7 per cent to stand at 13.4 per cent. The remaining communities, namely Christians, Buddhists, Sikhs, Jains, and others, have more or less remained constant (it is the category listed as Others that has shown a 0.2 per cent rise).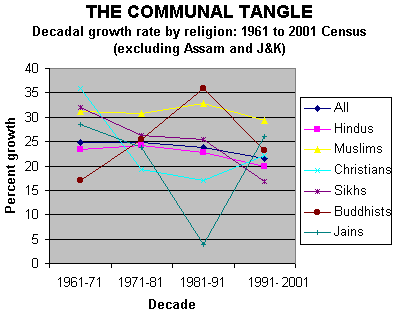 The rise in the proportion of Muslims is because of a consistently faster growth rate when compared to Hindus over the decades. The Muslim growth rate has always been higher than that of the Hindus and all the other communities. And this is the second aspect that might raise concerns: even as growth rates of all the communities have been dropping, Muslim growth rates have dropped, but much less.
In fact, the census report initially claimed that comparing the decades of 1981-1991 and 1991-2001, Muslim growth rates had actually gone up from 34.5 per cent to 36 per cent. But it was later pointed out that this rate was computed without factoring in Jammu and Kashmir (owing to terrorist violence, no census was undertaken in Jammu and Kashmir in 1991).
After accounting for Jammu and Kashmir, like all the other communities, the Muslim growth rate too has been declining, having gone from 34.5 per cent in 1981-91 to 30 per cent in 1991-2001. This remains substantially higher than the Hindu growth rate for the same period, which is at the 20 per cent mark. The other communities are lower still.
Prof Bose admitted to rediff.com that Jammu and Kashmir had not been factored in, which makes a major difference: that the Muslim growth rate had not risen as was first reported. But this is a correction that vested interests are likely to ignore.
"It is tragic that the census reports will be misused by various political parties when really they are inputs for researchers," lamented Bose in a telephone interview from New Delhi. He said that even reports that this was the first time India has undertaken a census on the basis of religion was wrong. "We have had religious census since 1881, when they first started. What is new is that now we have cross-tabulated religion with literacy, work force, income levels, etc," he said.
So what accounts for the higher Muslim growth?
Bose was candid. He said: "Today both Hindutva parties and the secular parties distort the truth for their own political reasons. We cannot deny the very simple fact that across the various socio-economic spectrums, Muslim growth has been consistently higher than that of other communities. And religion does play a role. Muslims have been much less willing to adopt family planning practices as compared to other communities."
Bose was critical of economists and 'secularists' who only looked at socio-economic indicators and refused to see religious factors that also play a role. "Throughout the world, Muslim growth rates are higher. Clearly this has a religious implication. It does not apply to India alone. And we must accept this fact even if it is not palatable," he insisted.
Moreover, Muslims form a high proportion in the 'border' states of India. The highest proportion of Muslims are in the tiny islands of Lakshadweep in the Arabian Sea: 97 per cent of a population of around 60,000. Then comes Jammu and Kashmir, where Muslims form 67 per cent of the 10 million souls. Next is Assam where Muslims comprise 31 per cent and are a majority in three districts; then comes West Bengal where Muslims form 25 per cent of the population; followed by Uttar Pradesh with 18.5 per cent and Bihar with 16.5 per cent.
"No wonder the fear of Muslim increase is exploited, for there is perhaps some worry that in future Muslim majority areas might seek to do another Pakistan," Bose pointed out.
But religion is simply not the only reason. Socio-economic factors play a crucial role in growth rates across the world and certainly in India, and the census only reinforces this condition.
"The simple fact is that Muslims form a larger proportion of India's poorest states like Assam, Bengal, and the BIMARU states [earlier meaning Bihar, Madhya Pradesh, Rajasthan, and Uttar Pradesh; now it also includes Jharkhand and Chhattisgarh]. In these states, even the Hindu growth rate is far higher than that of Hindus elsewhere and so is the case of Muslims. But since Muslims are a much larger proportion here compared with Muslims in the West and South (where they average at 10 per cent or less of the state's population with the notable exception of Kerala), it reflects in a higher overall growth rate," he pointed out.
He added that Muslim growth rates in the southern and western parts are far lower than those of their co-religionists in the North.
Bose said that those political parties that most fear the increasing numbers of Muslims had better be prepared. "According to my estimate, Muslims will form 20 per cent or more of India's population before the population finally stabilises," he said.
Different studies have different dates, but for the sake of convenience it is believed that India's population will stabilise only after 2050 (perhaps by 2060), by which time India would have overtaken China as the world's most populous nation with around 1.6 billion inhabitants! Some studies believe that Uttar Pradesh and Bihar might see their populations stabilise only by 2100.
Extrapolating these figures, Muslims might then number anywhere between 320 million and 330 million, and considering that the world's largest Muslim nation, Indonesia, is seeing its population stabilise [currently at 180 million], India might well have the world's largest Muslim population!
"I would say that we should not even call the Muslims a minority. They are in fact the second largest majority and should see themselves as such," insisted Bose.
He also said that despite what politicians say, large Muslim countries like Indonesia and neighbouring Bangladesh have been extremely successful in controlling their population growth. "It is a question of will and of the religious leaders coming forward. If these two Muslim countries can control their populations, there is no reason why Muslim leaders cannot do so in
India," he said, adding that the need to control population was to ensure a better standard of living.
In a democracy, one might see more numbers as more voting power, but the tragic fact for Muslims is that they are among the poorest Indians. That poverty is correlated to high population growth rates is a global reality to which neither the Hindus nor the Muslims of India are an exception.
"The Muslim growth rate is very similar to the growth rates of the Scheduled Castes and Scheduled Tribes, the poorest segments of Hindu society," he said.
The high Muslim growth rate thus only shows that a vast majority of Muslims continue to occupy the low end of the economic segment; precisely the segment that will have many children.
The remedy is clear, especially for those political parties that most fear the increasing number of Muslims in India. Improve the socio-economic status of the Indian Muslims besides propagating the benefits of a small family. But one without the other is unlikely to work.
Illustrations: Uttam Ghosh | Headline Image and Graph: Uday Kuckian