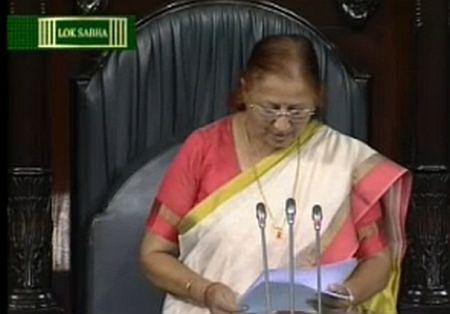 "If you are so bent on giving suggestions, you should elect a new Speaker," an angry Speaker Sumitra Mahajan remarked on Friday as she pulled up Jyotiraditya Scindia and Pappu Yadav for causing repeated disruptions and unruly scenes in the Lok Sabha, including tearing of papers.
Mahajan was peeved over interruptions by Scindia despite her giving a ruling that there cannot be any clarification to a minister's statement in the Lok Sabha.
Earlier, an agitated RJD member Rajesh Ranjan stormed the Well waving a newspaper and seeking a statement on the UPSC exam row. He later tore the newspaper and threw its pieces in the Well, with some landing on the table of the Speaker.
Mahajan read out the concerned rule after Leader of the Congress in the House, Mallikarjun Kharge, and several others wanted to seek clarifications from Home Minister Rajnath Singh over his statement on the landslide in Pune district of Maharashtra.
As Scindia kept speaking, a visibly angry Speaker remarked, "If you are so bent on giving suggestions, you should elect a new Speaker."
She said she was ready for a discussion on the tragedy if the members gave notices as per rules. "But no clarification can be sought in the House on the minister's statement as per Rule 372," she said.
Parliamentary Affairs Minister M Venkaiah Naidu said the government was ready for a discussion if proper notice was given by the members.
Kharge said the time of the House would not have been wasted if the Chair had allowed "simple" clarifications as had happened in the past.
In the din, Revolutionary Socialist Party member N K Premchandran rose on a point of order only to be told by the Speaker that points of order cannot be raised during Zero Hour.
Later, when RJD member Pappu Yadav was allowed to have his say during Zero Hour, the Speaker chided him saying his behaviour in the House was not proper.
Soon afterwards, he apologised to the Speaker for his behaviour.
"Sometimes I have to cross the limit of decorum to raise issues of national concern," he remarked.
When someone from the treasury benches said he had not properly apologised, Ranjan again apologised saying he was doing it from his heart.
His remark that he was a five-time member and most of the times has not come to the House "at somebody's mercy", the Speaker remarked "then you should have been aware of the rules."
Ranjan's wife, Ranjeet Ranjan of Congress, was heard protesting why her husband was being asked to apologise.