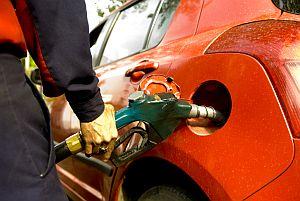 The Bharatiya Janata Party on Thursday described Samajwadi Party's opposition to the hike in diesel price as a "drama" and demanded that the government reduce value added tax (VAT) in Uttar Pradesh if it was really concerned about the people.

"SP's opposition against hike in diesel price is nothing more than drama to distract the attention of the people from the poor law and order situation and its failure to deliver in the six months of its government," BJP spokesman Vijay Bahadur Pathak alleged.

While SP was protesting against the increase in fuel prices, the government was getting additional revenue running into several crores of rupees per day due to high VAT in Uttar Pradesh, he claimed.

"As compared to neighbouring states like Haryana, Punjab and Delhi where VAT on diesel is 9.24 per cent, 9.07 per cent and 12.5 per cent respectively, state tax on diesel in UP is 17.23 per cent, which is the highest" Pathak said.

VAT on diesel in Bihar was lower than UP at 16 per cent, he said, adding that due to high VAT, price of diesel has increased from Rs 6.34 per litre to Rs 7.2 per litre.

This has also raised bus fares in the state, he said.

"If the government is concerned about the welfare of the people and specially farmers why does it not reduce tax on diesel to give some respite from the price rise?" he asked.

Even in its poll manifesto, SP had promised to reduce tax on petroleum products and make it equivalent to its neighbouring states. However, after coming to power, the party "made a volte face and forgot its promise," he accused.