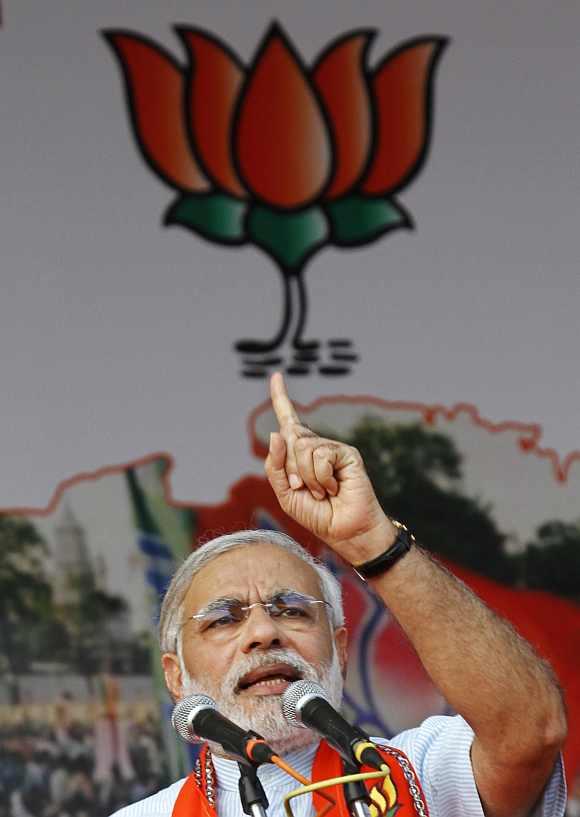 Bharatiya Janata Party led by its prime ministerial nominee Narendra Modi on Thursday launched a scathing attack on senior Samajwadi Party leader Naresh Agarwal after he mocked Modi's credentials for leading the country saying a tea-seller cannot make a good prime minister.
Modi, who used to sell tea in childhood, said the statement from the leader of a Congress ally had nothing to do with him but showed their anti-poor mentality.
"The question is not about Modi. It is about how people born in rich families, people who have spent their life like royalties are mocking the poor and that is why they are using such language," Modi said at a rally in Durg in Chhattisgarh.
In a democracy, he said, somebody polishing boots by road could rise to be someone who could write the destiny of India if he has the ability.
"Will it (leading the country) depend on who was born where? Will it depend on who was educated where or what he did to earn a living when he was a child," Modi asked, saying Agarwal's comments were an insult to the poor.
The party's leader in Rajya Sabha, Arun Jaitley, said a genuine 'samajwadi' (socialist) should be proud of the rise of a tea-seller like Modi and not regret it. "He (Agarwal) claims to be a member of the SP these days and is disturbed that a person (Modi) who worked as a tea-vendor has worked his way up," he told reporters, adding that the political discourse sgould be kept at a particular level.
Another senior BJP leader Venkaiah Naidu hit out at the SP over its support to UPA government, saying it would have somebody "who sold coal, 2G spectrum and other natural resources illegally as the prime minister but not a
tea-seller".
Agarwal had said on Wednesday in a public meeting that Modi aspired to be PM but someone rising from a teashop can never have a national perspective.
"If you make a 'sipahi' (constable) as 'kaptan' (Superintendent of Police), he can never have an SP's approach but will have that of a constable," he had said, ridiculing Modi's credentials. He claimed that the media had distorted his comments and presented them out of context.