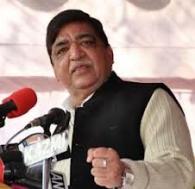 In remarks that could stoke a fresh controversy, Samajwadi Party leader Naresh Agrawal on Wednesday said that officers are "scared" to appoint women as their personal assistants after the passage of the bill to prevent sexual harassment of women at workplaces.
Agrawal, whose remarks have led to controversies in the past, though refrained from commenting on the rape case against Tarun Tejpal till the probe is completed.
He recalled that when the law in favour of women was being brought, he had expressed concern over it. "I had apprehended that this law may also be misused like the anti-dowry law and may result in a situation which the women themselves are deprived of justice. I have got this information from many people that a number of senior officers are not appointing women as their personal assistant. They are scared anyone may have to face any kind of allegation after this," Agrawal, who is a Rajya Sabha MP, said.
The SP had also opposed the provisions of anti-rape bill this year.
However, on the Tejpal case in specific, Agrawal said that nothing can be said right now when the matter is under investigation of the Goa police and hence one has to watch for the legal process to culminate.
Responding to another question about the incident of a rape incident in Uttar Pradesh, Agrawal said, "Such incidents are happening in every part of the country...such incidents are happening frequently in Delhi" and wondered why media was "so much concerned this time".
Agrawal, at the same time, maintained that he was hopeful that the government will ensure punishment to culprits and that actions is being taken into the matter.

Image: Samajwadi Party leader Naresh Agrawal