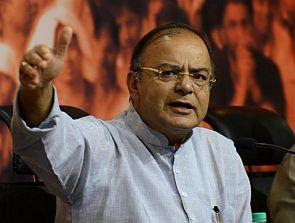 The UPA chairperson has resorted to the last refuge of the desperate, by accusing the BJP of indulging in divisive politics by "sowing seeds of poison", says Arun Jaitley
The revelation in 'The Indian Express' with regard to the Augusta Westland VVIP helicopter deal appears to be a repeat of what we witnessed in the late 1980s. Martin Ardbo's diary was seized. He was head of the company which manufactured the Bofors gun.
Among various disclosures, the diary hinted at the protection of 'Q'. Keen observers all knew who this 'Q' could be. In 1993, the Swiss authorities gave details of the bank accounts into which the Bofors kick-backs were paid. The beneficiary of one of the accounts into which significant sums had been deposited indeed was the well known 'Q'. 'Q' was allowed to escape from India and the rest is history.
Admittedly, kick-backs have been paid in the VVIP helicopter transaction. The defensive UPA Government has cancelled the deal. The Indian Express in the first instance points out as to who calls the shots in the decision making in the Government of India.
Even the Italian middlemen perceived that important decisions in India were being influenced by Congress president Sonia Gandhi.
The prime minister at best is one of the several advisors to her. The middlemen are clever people. They do their home work before coming to conclusions. The abbreviated initials mentioned on the account sheets remind me of Ardbo's diary.
Sonia should indeed be worried. How is the Government of India perceived by people in India and outside? Is it a government of gold diggers? Has the United Progressive Alliance which she heads subverted India into a kleptocracy? Is the Government which she controls a filth machine?
The government indeed has a very corrupt image. Its performance on the economic front has been disturbing. The final data of 2012-13 have scaled down the GDP growth to 4.5 percent.
The UPA-II's economic achievements, to borrow Finance Minister P Chidambaram's phrase, can be written on the back of a postal stamp. Recent election results presented a disturbing picture for the ruling combine. The leader that they have sought to project for 2014 General Elections is failing to make an impact.
Faced with these adversities, the UPA chairperson resorts to the last refuge of the desperate. Her 'poison cultivation' remark is only intended to communally polarise an election which is otherwise being contested on a developmental agenda.
Her desperation is understandable. It is a different matter that her attempt to communally polarise the election may yield no results.