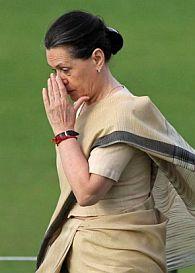 Congress president Sonia Gandhi is set to travel to the United States for a medical check-up.
"Her going to the US for medical check-up is due," a senior Congress leader said.

He, however, refused to give any details when asked about reports that she may by flying out on Monday evening.
Sonia, who had undergone a surgery in the US for an undisclosed ailment in August, 2011, had flown there for a check-up in February and again on September 2 last year.
The Congress president was on August 26 admitted to AIIMS hospital after she was taken ill in the Lok Sabha where her dream welfare legislation and UPA's ambitious Food Security Bill was in the final stages of adoption.
She was discharged from the hospital after spending five hours. Sonia, who had cough and headache, had felt uneasy in Parliament after taking medicines.