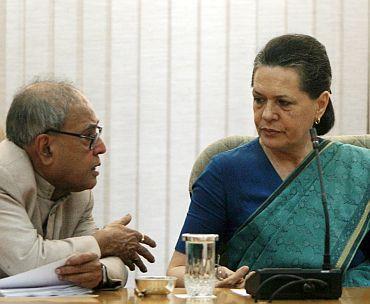 Congress President Sonia Gandhi on Tuesday met President Pranab Mukherjee in the backdrop of the UPA pitching for Leader of Opposition status for her party in Lok Sabha.
Gandhi, who had on Monday made a strong pitch for Congress being given the post of Leader of Opposition, held a meeting with party MPs in Lok Sabha in the morning.
The meeting came after UPA MPs decided to write to Lok Sabha Speaker Sumitra Mahajan seeking an immediate decision on the issue.
Congress has 44 seats in the 543-member Lok Sabha. The party has already asserted hat it would exercise all options to ensure a "democratically correct, logical conclusion" on the issue and has not ruled out the option of approaching the court on the matter.
Sources close to Gandhi, however, said that her meeting with the President was a "courtesy call".
Gandhi had been calling on Mukherjee regularly ever since the former Finance Minister in UPA II government became President in July 2012.
Kharge to meet Speaker on Wednesday
Meanwhile, Congress leader in the Lok Sabha Mallikarjun Kharge is expected to meet Speaker Sumitra Mahajan on Wednesday as the party raised the pitch for getting the Leader of Opposition status in the House.
Congress has sought a meeting with the Speaker at a time when the government is indicating that it was not averse to having a recognised LoP in the Lower House like in the Rajya Sabha.
When contacted, Kharge said the party has sought an appointment with the Speaker but declined to divulge details.