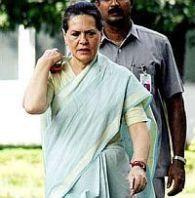 Anguished over the rape of a five-year-old girl in Delhi, Congress President Sonia Gandhi is holding consultations to work out an action plan with quick response system to check such incidents.
Congress spokesperson Renuka Chowdhary said "we will come out with a future action plan...we are working to get a swift response system."
Noting that the govermnent moved with extra speed and brought legislative reforms after last December's incident of gang rape, the Congress spokesperson said it looks "that is not enough".
"Today, there is a call for more. Gandhi has reiterated that we need to talk less and do more. She is the guiding spirit behind all the changes, reforms that are happening...this is being addressed internally in the party. We will come out with a future action plan. Till then, I cannot elaborate," she said.
A leader, speaking separately on condition of anonymity, said the Congress President has talked to concerned authorities and is holding consultations with various groups on how to tackle such incidents.
Chowdhary's remarks came a couple of days after Gandhi, while condemning the child rape incident, also gave a terse message to the authorities that "action and not words" are required to tackle such crimes.
Chowdhary, however, refused to specify what action Gandhi is keen on, saying this was being discussed within the party.
The Congress spokesperson also indicated that Delhi Police Commissioner Neeraj Kumar, under fire for a spurt in crimes against women, could continue and termed it as "personal opinion" the reported demand of another party spokesperson Sandip Dikshit that the state top cop should go.
"This could be his personal opinion. He said what he felt. What is there for me to say on it?...If it could be so simple that you remove some one and get the action, we would do it...but it is not so simple...the issue of resigning or not resigning is different...
"Will we always be looking for somebody else to take responsibility in all issues?...Are we going to give cops the right to peep into our houses all the time?...It is a collective responsibility that we all need to take," Chowdhary told reporters in response to a volley of questions including whether the Delhi Police Commissioner will be asked to resign.
She also said "chemical castration is one of the ways to check such incidents" but hastened to add that "no such opinion has been finalized at the party level".
"Many people have come out with suggestions on how do we tackle the issue that confront us. All the suggestions are being examined minutely to see how we get a swift response system," Chowdhary said. Chowdhary also said incidents like this should not be an issue of political divide. "We should desist from that. Somewhere, we need to rise above political divides... she said.
She said "it is true that whatever happens in Delhi come to our attention more than what happens at other place like Madhya Pradesh, Rajasthan and West Bengal because Delhi is the national capital".
Asked about Congress' view on the chemical castration, the demand for which was raised in internal meetings of the party by a few leaders after the South Delhi gang-rape incident last year, Chowdhary said "chemical castration is also a way to check such incidents in society."
She added "many people have come out with many suggestions on how to tackle the issue that we confront today".
She at the same time clarified "we have not taken any stand as a party on whether we will do it or not. The whole issue, the suggestions are being examined minutely to see how we work to get a swift response system."
Chowdhary said her party is "committed" to addressing the problem, which requires everybody to share the responsibility collectively.
"The home minister will decide that. I will not be able to say anything on his behalf here," was her refrain when repeatedly asked why the Delhi Police Commissioner should not resign on moral grounds.