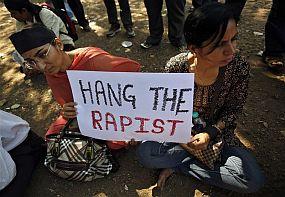 Women and student activists on Sunday converged near India Gate, which had witnessed largescale anti-rape protests in December last, demanding justice for the five-year-old rape victim in the national capital.
Student protesters from JNU tried to march towards India Gate but were prevented from moving closer. They staged protest near Patiala House court complex. Some students were stopped near Taj Mansingh hotel.
Women activists also reached near India Gate in a march from Central Secretariat breaking barricades erected on way. However, they were stopped near India Gate where they staged the protest.
The protesters shouted slogans against Delhi Police and government and demanded stringent punishment for the culprit and policemen who refused to help the victim and her family.
India Gate and Rajpath had witnessed violent protests in December last when thousands of activists had converged there against the brutal rape and assault on a young Delhi girl, who died later, in a moving bus in south Delhi.

AAP activists protest outside PM's residence

Earlier in the evening, a group of Aam Aadmi Party activists tried to stage a protest demanding removal of Delhi Police Commissioner Neeraj Kumar outside Prime Minister Manmohan Singh's residence and were detained.
The activists reached Singh's 7-Race Course Road residence and tried to break the barricades to enter the high-security premises as their party served an "ultimatum" to the government to remove Kumar by this evening.
Around 5pm, the activists tried to enter the premises but were prevented by security personnel, including Rapid Action Force.
The activists were detained and taken to a nearby police station.