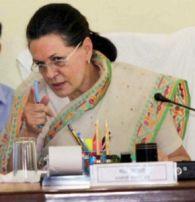 Batting for minority rights, Congress President Sonia Gandhi on Wednesday cautioned people against forces weakening the country's secular ethos and said communal harmony should not be disturbed over small, local incidents.
In her address at the inauguration of National Waqf Development Corporation, Gandhi also sought to underline the secular credentials of the Congress party.
She expressed the hope that the communal violence bill would soon be tabled in Parliament, saying it is aimed at protecting social amity and the nation's secular legacy.
Gandhi said it is the government's responsibility to protect and encourage secular values and ensure that minorities get equal opportunities.
"It is necessary that minorities feel secure and have trust in law and order mechanism. We should be cautious of powers which weaken India's secularism," she said.
In an apparent reference to Muzaffarnagar riots, Gandhi said, "It is necessary that small, local incidents should not be allowed to disturb our social harmony and law and order mechanism should deal with them sternly without any bias."
Gandhi said the amount of money spent on schemes aimed at the welfare of minorities had risen ten-fold in the last 10 years under UPA.
The corporation aims to develop waqf properties for the welfare of Muslims and it fulfils yet another promise of the UPA, she said.
Reiterating UPA government's "unwavering" commitment to the welfare of minorities, Prime Minister Manmohan Singh said it had implemented most of the recommendations of the Sachar Committee.
As soon as the prime minister concluded his speech, a member of the audience tried to disrupt the event protesting loudly against the poor implementation of the minority schemes. He was bundled out of the auditorium by the security after he refused to be silent.
"I wrote 150 letters to the PM and did not receive even an acknowledgment," Faheem Baig told reporters. Minority Affairs Minister K Rahman Khan met him later and heard out his grievances.
Gandhi also cautioned the government that only good schemes are not enough and their effective execution is the key.
I want to stress that effective execution of schemes is also very necessary. The ground reality is that sometimes the benefits of these projects do not reach the targeted people. That is why it is necessary to put in a strong mechanism to deal with complaints," she said.