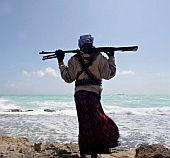 In yet another incident of its kind, five Indian sailors have been abducted by Somali pirates off the Nigerian coast.

On December 17, heavily-armed pirates stormed a German oil tanker SP Brussels belonging to the Medallion Marine company. They went on to loot the ship and took hostage five Indian sailors.

There has been no report yet of any demand for ransom.
Francis Xavier, father of Thomsun Britto, one of the abducted Indians, told rediff.com that a representative of the shipping company had informed the family about the incident and had assured that the company was doing everything it can to ensure his safe return.
Tension gripped the Kanyakumari-based family as the news broke.
Adding to their woes, there has been no news about the hostages' whereabouts since the kidnapping

A worried Francis even refuses to divulge phone numbers of either his son or the shipping company.

"You will call him and the phone ring will alert the kidnappers. They will think he is giving their location and beat him up. As for the company, you will ask them too many questions and antagonize them. They are our only hope. Please don't put any pressure on them".

Francis has not approached the government for help. He expects the shipping company to do the needful.

Meanwhile, Medallion Marine MD Carl Fernandes told rediff.com in Mumbai, "We are in touch with the families of the sailors and the owners of the ship in Germany. The ship owners are in touch with the kidnappers and the Nigerian government. The kidnappers' vessel has been located and it is surrounded by the Nigerian Navy." 

"The Nigerian Navy has not tried to board the ship. So far, there has been no ransom demand. We are expecting a demand by evening today. We will let you know when that happens."