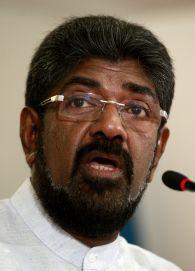 Notwithstanding the objections from India and Tamil minority parties, an "urgent bill" will be presented in Sri Lankan parliament next week aimed at diluting the provincial council powers devolved in terms of the 1987 Indo-Lanka accord.
"An urgent bill would be submitted next Tuesday", Keheliya Rambukwella, the government spokesman said.
Rambukwella said the bill would deal with repealing of the provincial powers to merge with another province.
"Even when the Rajiv Gandhi-Jayawardene agreement came, there was opposition to merging of provinces", Rambukwella said.
The government spokesman said that the Cabinet had decided to convene a brand new select committee in which all political parties would be invited to join.
The select committee would deal with all other amendments necessary for the thirteenth amendment to the constitution.
The time-bound select committee would commence work next Wednesday if possible.
The government would go ahead in amending the thirteenth amendment irrespective of the outcome of the select committee.
Rambukwella said despite concerns raised by partners on the move to dilute powers, the government was confident of getting two thirds majority in parliament for the amendment.
Asked if the government was concerned over opposition coming from India and the international community over dilution of provincial powers, Rambukwella said, "local opinion and concerns are more important to the government".
He said Sri Lanka's situation had evolved since 1987 when India intervened in the island's ethnic separatist conflict.
"It may have been the correct thing at the time but now things are different. We do not want to face a situation with several police forces within the country," he said.
The move to dilute provincial powers come ahead of government plans to hold the first ever northern provincial council election in September.
The ruling coalition's nationalist partners warn that undiluted provincial powers would lead to the creation of a separate state, the goal of the LTTE's 30 year armed campaign.
Image: Lankan government spokesperson Keheliya Rambukwella
Photograph: Reuters