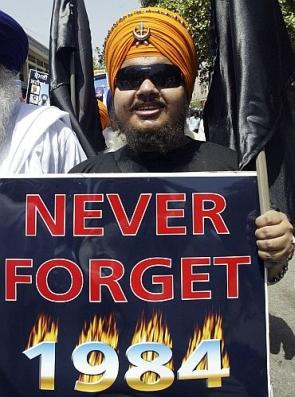 Lieutenant Governor Najeeb Jung has given consent to the Aam Aadmi Party government's recommendation for a probe by a Special Investigation Team into the 1984 anti-Sikh riots, Delhi Chief Minister Arvind Kejriwal said on Monday.
The Delhi government had last week recommended to Jung to set up a SIT to probe the anti-Sikh riots within a time-frame of one year.
"The Lieutenant Governor has given his nod to it (SIT probe)," Kejriwal told reporters.
The Aam Aadmi Party leader earlier met Jung in the morning.
Public Works Department Minister Manish Sisodia said besides reopening of FIRs, the SIT would also inquire into allegations of destruction of evidence by police.
He said under the SIT probe, all those cases which were closed or shown untraced would be re-opened, re-investigated and if the need arises, fresh FIRs would be registered.
The decision to form the SIT to investigate the riots -- which left nearly 3,000 Sikhs dead following the assassination of the then prime minister Indira Gandhi on October 31, 1984 -- was slammed by the Delhi Congress.
Delhi Pradesh Congress Committee chief Arvinder Singh Lovely said the AAP was trying to woo the Sikh community ahead of Lok Sabha polls.
The government had recommended to Jung to deploy police officers from outside Delhi to conduct the inquiry.
The Delhi government's decision to form the SIT came against the backdrop of Congress Vice-president Rahul Gandhi admitting that some of the partymen were probably involved in the violence.
Congress leaders Jagdish Tytler and Sajjan Kumar are facing allegations of involvement in the riots after Indira Gandhi was gunned down on October 31, 1984.