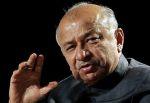 The police should have been alert in preventing the Hyderabad blasts rather than look for culprits once the damage is done, says Ajit Doval, former director of the Intelligence Bureau.
"(Sushilkumar) Shinde is good man but he does not fit the role of the home minister. Chidambaram (finance minister) would have asked various agencies to explain what actions were taken once they received information from intelligence agencies," Doval told rediff.com.

"It would have been better had we said who was behind the blasts before admitting we had prior knowledge and that the state police had been put on alert. I would not confirm or deny the involvement of the Indian Mujahideen. After the execution of Afzal Guru, Pakistan based terror outfits had vowed vengeance," he said.

Rajan Bhagat, public relation officer of the Delhi police, confirmed that the special cell of Delhi police had arrested an IM operative Maqbool some time back. "He is a member of the Indian Mujahideen and had confessed that the IM could target several places including Hyderabad. This information had then been passed on to the home ministry and intelligence agencies," Bhagat said.