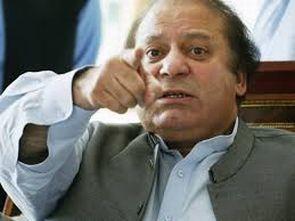 Former External Affairs Minister Jaswant Singh believes that Nawaz Sharif could have been aware of Pakistan army's aggression in Kargil in 1999 despite the insistence by the then Pakistan prime minister that he did not know about it.
"I do not think a prime minister can remain unaware," Singh told PTI.
He was responding when asked whether he believes Sharif's contention that he had no knowledge about the Pakistan army's aggression that led to a three-month conflict.

About the then Pakistan Army Chief Gen Pervez Musharraf claiming that Sharif knew about the Kargil action, Singh responded, "So why should we enter that disputation? It is a pointless disputation... It is for Mian saheb himself to answer this question."
Singh said he does not want to say that he disbelieves Sharif's contention "because then I am charging the rime Minister of prevarication."
Singh, the then External Affairs Minister, has written about the Kargil episode in his new book 'India At Risk'.
He suggested that the aggression by the Pakistan army was Musharraf's machinations aimed at scuttling the reconciliation effort attempted by the then prime minister Atal Bihari Vajpayee's bus ride to Lahore.
"We had attempted to set a course and Musharraf altered that course. We are back to the same situation," he observed.
Singh, who was part of the bus ride in February 1999, said Vajpayee's bold decision had caught the imagination globally.
"(But) There were elements particularly in the Pak army that had set its heart on to bringing India down to its knees... that is what has happened and we had Kargil episode (that) eventually led to Musharraf taking over the country," he said.
Terming the Kargil episode as a challenge to both India's diplomacy and military, Singh said the army initially did not have a clear assessment about the nature and magnitude of the incursion.
It took about 10-12 days to have the actual picture about the developments there, he said.
"The Chief of Army Staff Gen V P Malik was out of the country (at that time). I asked the Deputy Chief. He said it is terrorists. I said they are causing mayhem. How long will you take to clear them. He said 10 days.... It took same time to assess (the actual situation)," the then foreign minister recalled.
Pakistan troops had intruded several kilometres inside the Indian territory in Kargil and occupied mountain peaks with an aim of cutting the supply line to Leh and Siachen.
Singh has written in his book that "the United States knew fully well how the chain of events had started".
He writes that then US Secretary of State Madeleine Albright called him on May 30, more than three weeks after the Kargil intrusion came to light, and "did hint at the possibility of a ceasefire, following which a withdrawal of troops would be possible".
When asked about this, he said the US was concerned that the "Kargil contest" must not become nuclear.
"That was the greatest concern in the western powers. That is in that context (that) Madeleine called.
"She said she knew. It was the first confirmation that they had followed the events. Also first recognition by the US that Pakistan is in the wrong. US has always had a kind of a peculiar relationship with our western neighbour. This indicated to me that the wind has turned," he noted.
The ceasefire came around after about three months and the Pakistani troops had to go back after the then US President Bill Clinton put pressure on Pakistan.
Singh was asked why India accepted the US intervention when its stated policy is against any third party mediation in India-Pakistan affairs.
"It was Pakistan which was pleading for ceasefire. We had cleared all peaks.. they were withdrawing.... What is the leadership role, to avoid greater casualty. We were not pressurised. We recognised that Pakistan had been pushed out of Kargil and that was it, the ceasefire," he replied.
"Ceasefire was actually acceptance of their capitulation," the former Minister said.
Singh was also asked why India took so long to use Air Force against the Pakistan troops entrenched in bunkers, particularly when the ground troops were facing immensely difficult task to reach the peaks.
"Yes. I was opposed to use of Air Force.. The reason was psychological and tactical," he argued.
He added that if even one fighter aircraft is lost in action, the visibility is much greater. And in this case, the task for Air Force was "virtually suicidal" as the fighter planes had to fly very close to the Line of Control (LoC) without crossing it.
India lost two fighter planes in such missions initially but the pilots later mastered the art and the force was very effective in evicting the intruders.
"We don't sufficiently recognise the martial merit that we achieved in Kargil," Singh rued.
Talking about the Lahore bus ride undertaken by Vajpayee, he said it was a "very brave effort" which evoked high degree of sentiment and caught imagination globally.
"(But) There was opposition in Pakistan from the beginning... (There were) Not only protests on the route, there were terrorist attacks in Jammu and Atalji did ask me 'yeh kya ho raha hai' (what is happening). I said, Atalji these are necessary manifestations of protests against brave effort to find reconciliation," he recalled.
Image: Pakistan Prime Minister Nawaz Sharif
Photograph: Reuters