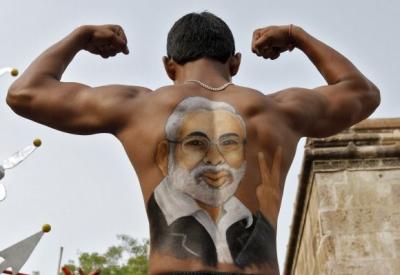 The Congress on Friday accused the Rashtriya Swayamsevak Sangh of forcing a decision on the Bharatiya Janata Party over declaring Narendra Modi as its prime ministerial candidate.
After a go-ahead from the RSS, the BJP has decided to hold a meeting of its parliamentary board on Friday on the issue of declaring Modi as the prime ministerial candidate for 2014 Lok Sabha polls despite opposition from L K Advani and some other senior leaders.
Reacting to it, Information and Broadcasting Minister Manish Tewari alleged in a tweet, "A Nagpur-based shadowy cabal of unaccountable geriatric gentlemen in period attire can ram decisions down the BJP's throat and call it internal democracy."
BJP President Rajnath Singh has convened a meeting of the parliamentary board at 5 pm when a decision on Modi is expected to be announced.
Advani, who is the stumbling block in the announcement, has maintained Modi's projection would hurt BJP's campaign against the United Progressive Alliance over issues like corruption and price rise, as the focus would be on Modi.
While Advani has not said anything publicly on the issue, his close associate Sudheendhra Kulkarni had attacked Modi, describing him as a "polarising" leader" in the society as well as the party and questioned his ability as a prime minister to run a stable and effective government.
"A socially polarising leader has polarised his own party. Can he run a smooth, stable and effective government at the Centre? Think seriously!" Kulkarni said on Twitter about Modi without naming him.
Leaders belonging to the Modi camp insist his name be declared at the earliest. This created a pressure on Singh to reach as wide a consensus as possible and announce Modi as the PM candidate.

Image: A supporter of Gujarat Chief Minister Narendra Modi

Photograph: Reuters