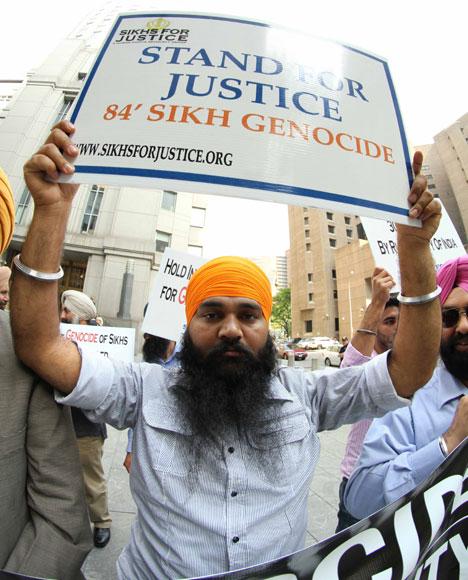 A United States court has denied a request made by a Sikh rights group to file an amended complaint against Congress party president Sonia Gandhi in connection with the 1984 anti-Sikh riots case.
The Sikhs for Justice had written to US District Judge Brian Cogan requesting "leave to further amend the complaint" against Sonia was denied by the judge who said in his order that since the case was dismissed last month, there is no basis for SFJ to seek further amendment of the complaint.
"Final judgment has been entered in this case and thus there is no basis for further amendment of the pleadings. In addition, even if the case was still open, plaintiff has shown no grounds for permitting an amendment of the pleadings," Cogan said in his order.
Cogan had last month dismissed the human rights violation lawsuit against Sonia, granting her motion that there is lack of subject matter jurisdiction but did not bar SFJ from bringing litigation against her in future.
He had however denied a request by Sonia that the court should impose an "anti-suit injunction" prohibiting SFJ from bringing further lawsuits. The SFJ has filed an appeal in the US Court of Appeals against Cogan's order to dismiss the case against Sonia.
Sonia's attorney Ravi Batra expressed confidence that his client will win against the SFJ's appeal. "Despite my public request to the SFJ not to exercise its right to appeal the legally sound dismissal order, the SFJ has done so and will force us to re-win the case-dismissal" in appeals court, Batra told PTI.
"Genuine victims deserve a lawsuit they can win, not one that only generates false hope and meaningless publicity, as publicity isn't justice. "In addition, SFJ's belated request of yesterday to file yet another amended complaint, which we filed our objection to was denied by judge Cogan's order as essentially an exercise of futility," Batra added.
The SFJ and the other plaintiffs in the case had alleged that Sonia's conduct towards the perpetrators caused the victims, survivors and the Sikh community serious pain and suffering.