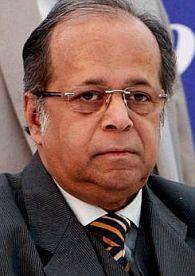 As pressure mounted on him to quit as the chief of West Bengal Human Rights Commission over a sexual assault allegation, former Supreme Court judge Ashok Kumar Ganguly on Tuesday said he was "undecided" on his future course of action.
"I have not decided. I am undecided," Justice(retd) Ganguly told PTI in Kolkata.
"Time has not come to think about it," he said when asked about his future course of action in the wake of demands for his resignation as the Chairman of WBHRC.
Ganguly, who has been accused by a young law intern of sexually harassing her, at the same time received support like from eminent lawyer Soli Sorabjee and former Chief Justice of India Altamas Kabir amid a raging debate whether or not he should step down. He has strongly denied the charge.
BJP leader Sushma Swaraj joined the chorus of demands for the resignation of Ganguly, saying "not only Caesar's wife but Caesar too must be above suspicion".
"I strongly feel that Justice A K Ganguly should resign as chairperson of West Bengal Human Rights Commission," the Leader of the Opposition in Lok Sabha said in a Twitter post.

Defending Sushma's demand, BJP spokesman Shahnawaz Hussain said a lot of questions have been raised in the sexual assault allegation which was a challenge to the credibility of the judiciary.
West Bengal's ruling Trinamool Congress has already demanded that Ganguly quit office.
"This is the first time such an allegation has been made against a former Supreme Court judge who is at present holding the post of WBHRC chairman. He should resign immediately," said TMC MP Kalyan Bandopadhyay, who is also a senior lawyer.
Additional Solicitor General Indira Jaising was also of the view that Ganguly should resign.
"In fact after his name was disclosed in public he should resign from the current position he is holding," she said.
Former Delhi High Court judge R S Sodhi said the allegation is a cognisable offence and should have been probed by the police in the same manner as any ordinary man facing a similar charge is investigated.

Retired woman IAS officer Promila Shanker and DelhiUniversity's former Dean of Law Faculty S N Singh have written a letter to Chief Justice of India P Sathasivam seeking investigation and registration of a criminal case by the Delhi Police against Ganguly.
Seeking Justice Ganguly's resignation, Shanker and Singh said as per the serious allegations of criminal conduct made by him, he has no right to continue as the chairman of WBHRC.

Supreme Court lawyer Kamini Jaiswal said since there is no provision of suspension, Ganguly, therefore, must resign.

"He cannot be deciding. Nobody is going to believe what he decides as a Chairman of WBHRC when there are such serious allegations aganst him," she said.
In their letter to Justice Sathasivam, Shankar and Singh sought CJI's prompt action on several issues, relating to the allegations of the law intern against the retired judge, to safeguard the credentials of the judicial system.

"The whole nation is eagerly awaiting prompt action on the allegations of law intern against a former Supreme Court judge.
"This would be a litmus test for the Rule of Law and administration of Justice in India. It's a matter of grave concern, the way the events are unfolding, giving rise to a new jurisprudence for the high and mighty," the letter said.

It said that as per the statement of the intern, she had met the judge in December 2012 at a hotel in Delhi and it was also confirmed by the statements of Justice Ganguly, who had retired in February 2012, given to the media.
"As a matter of fact (Justice) Ganguly engaged the law intern in his capacity as Chairman of WBHRC and therefore the matter does not relate to Supreme Court.
"Since retired Supreme Court judges don't have any immunity from criminal conduct, the same can be investigated only by the prosecuting authority i.e. Delhi Police since incident has taken place at Delhi," the letter said.

Sorabjee took a different view saying Ganguly need not resign as it would set a "dangerous precedent".
"No. I don't think so. Because he says that these allegations are baseless. Why should he? We are in the realm of accusations," according to Sorabjee.
Justice Kabir, who retired recently, was of the view that one automatically does not resign on the basis of allegations.

"One automatically does not resign on the basis of allegations. I know he had said that he was shocked and shattered. I never ever would believe that this is possible," he had said.
BJP's Subramanian Swamy differed from the party's stand, saying Ganguly shouldn't tender his resignation on the basis of just an allegation.
Senior advocate Raju Ramchandran said the demand for Ganguly's resignation is premature but felt the issue is a matter between him and his conscience.