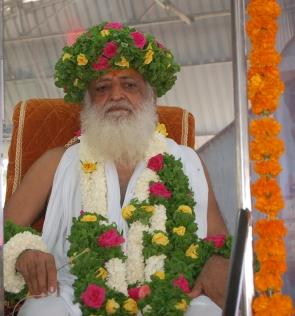 A local court on Tuesday reserved its order on the remand application of self-styled godman Asaram, in the alleged sexual assault case filed by two Surat-based sisters, against him and his son Narayan Sai.
Magisterial Court Judge V A Budh has reserved his order, after hearing the arguments of the police and defence.
Asaram was produced before the court on Tuesday morning after he was brought to the city on transfer warrant from Jodhpur on Monday amid tight police security.
Nobody except the litigants was allowed to go inside the court premises where the hearing took place. The police in its remand application has sought 14-day custody of Asaram citing various reasons, including interrogation of the accused regarding the alleged crime, his medical check up and seizure of things related to the crime. They have also mentioned in the remand application that they want to investigate whether other girls in the Ashram are also subjected to the same exploitation or not.
Asaram's advocate B M Gupta, however, severely opposed the demand of remand, saying that the case is 12-years-old.
Gupta told the court that his client was innocent and is being framed in a false case. He said that there was no need of the police remand as it has already completed primary investigations.
The Surat police had recently registered complaints filed by two sisters -- one against Asaram and another against his son Narayan Sai -- of rape, sexual assault, illegal confinement and other charges.
The complaint against Asaram was transferred to Chandkheda police station in Ahmedabad as the incident took place in his ashram here. The case is going on in Gandhinagar court as Chandkheda area falls in Gandhinagar district.
The elder of the two sisters, in her complaint, had accused Asaram of sexual assault between 1997 and 2006 during the time she had been living in his Ashram on the outskirts of Ahmedabad city.
The younger sister had filed a complaint against Sai, accusing him of repeated sexual assault between 2002 and 2005 when she was living in their Surat Ashram. The whereabouts of Sai are not known.
Both Asaram and Sai had filed petitions in the Gujarat high court seeking quashing of sexual assault complaints against them. Sai has already filed for anticipatory bail in a court in Surat.