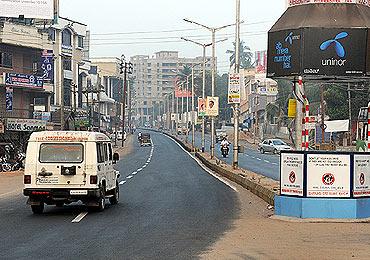 Right-wing organisation Shri Ram Sene has called for a Karnataka bandh on Saturday to protest the humiliation faced by its chief Pramod Muthalik recently.
Muthalik's face was blackened by alleged activists of the Youth Congress during an open air debate on Valentine's Day hosted by a local TV channel in Bengaluru on Wednesday.
Incidentally, Muthalik and his little-known organisation shot to the limelight last year, when members of his outfit attacked and beat up women at a Mangalore pub.
The situation in Mysore and Mangalore remained tense on Friday as Sene workers allegedly indulged in violent activities.
Sene activists also reportedly disrupted the screening of Shah Rukh Khan-starrer My Name is Khan at a cinema hall in Mysore. The police immediately swung into action, but the screening of the film was halted for some time. Seven persons have been arrested in connection with this case.
Activists of the outfit allegedly pelted stones and damaged 15 buses. The police are on the look out for the accused. Additional police forces have been deployed into service.
Bengaluru remained relatively calm despite the Sene's threats, but security was tightened at malls and hotels. Meanwhile, Muthalik termed the 'face blackening' incident as 'a slap on democracy'.
Image: Mangalore streets remained deserted on Friday as activists of the Shri Ram Sene pelted stones and damaged buses | Photograph: Dayanand Kukkaje