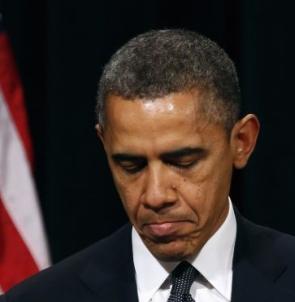 United States President Barack Obama faced stiff resistance from the opposition Republican senators and skepticism from his own Democrats, forcing the Senate Majority Leader Harry Reid to postpone the vote on military intervention in Syria.
According a media report, Obama could fall short of 50 votes needed to get Senate authorisation for a military strike against the Bashar al-Assad regime in Syria.
While so far only six Democratic senators have publicly announced their decision to vote against the resolution, the number can grow.
In multiple interviews, Obama himself said he was not very confident of having enough votes. "The opposition is growing among Obama's allies and former colleagues in his own party on a US strike on Syria, a sign that there is a real chance that the White House could fall short of the 50 votes it needs to win in the Senate, according to several sources familiar with the situation," Politico reported on Monday.
Sensing trouble, Reid said he will not rush the vote to begin considering the use-of-force resolution, and insisted that he has enough votes.
"I've spoken to the Republican leader. I've talked to virtually all my Democratic senators and we have enough votes to get cloture," he said.
"I don't think we need to see how fast we can do this. We have to see how well we can do this. I think what we need to do is make sure that the President has the opportunity to speak to all 100 senators and all 300 million American people before we do this," Reid said.
Republican Senator Johnny Isakson said he would vote against the resolution to authorise a US military strike in Syria.
"Over the past week, I have travelled my state and have talked personally to hundreds of Georgians. Thousands more constituents have contacted my office by phone and e-mail. It is clear to me that Georgians overwhelmingly oppose our country getting involved militarily in Syria," he said.
"The administration's lack of a clear strategy is troubling, and the potential fallout following a military strike is also troubling," Isakson said.
Senator Rand Paul, in a dear colleague letter, urged his senate colleagues to vote against the Syria resolution. "I write today to ask you to join me in opposing the resolution to involve the US in Syria's civil war," he said.
Senator Jim Inhofe, ranking member of the senate armed services committee, opposed the current plans for military intervention in Syria and announced to offer an amendment during consideration of the Syria resolution that would protect the Department of Defence from sequestration.
"After reading the classified intelligence reports, attending numerous meetings and briefings with senior administration officials, and consulting with my colleagues in both the House and Senate, I will not support the authorisation of the use of military force in Syria," Congressman Charles W Boustany said.
The proposed use of military action alone in Syria, in the absence of a broader diplomatic strategy, will fail to achieve the objective of arriving at a political settlement, he said.
Senators John McCain and Lindsey Graham, in a joint statement, said that it should be clear to members of the Congress that only the threat of military action against the Assad regime's chemical weapons capabilities is what could create a possibility for Assad to give up control of those weapons.
"For this reason, the Congress should proceed with its plans to consider, and vote on the authorisation for use of force that is now before the Senate, and today's development should make members of the Congress more willing to vote yes.
"This will give the president additional leverage to press Russia and Syria to make good on their proposal to take the weapons of mass destruction out of Assad's hands," they said.