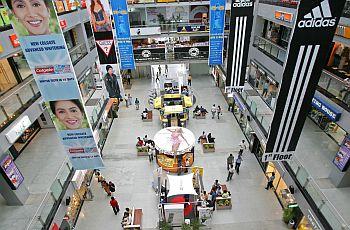 Shopping malls are a favourite target for terrorist organisations. How often have you seen a security guard place a mirror under your car and then letting you go inside the mall's premises? If you call this a thorough security check, then forget it, because it is a wasteful exercise.
An expert mechanic would take not less than six hours to figure out if anything is hidden behind the wiring, and in such a circumstance, it is strange that a security guard does this in less than 30 seconds!
The fact of the matter is that in India alone there have been 4,000 warnings from various security agencies that shopping malls in the country are a prime target. The Intelligence Bureau too points out that shopping malls need most security, since there is such an large influx of people in such areas. Moreover, security is lax in these places -- thus making it a favourite hub for terrorist organisations.
Arif I Sheikh, an expert on mall security, is also the chief operating officer, Retail Ansal API Group. He has been on the job since the past 14 years and has been the Director/CEO/ President of International Retail Chains and Shopping Centres.
Sheikh, who also has vast experience in managing the malls in Isreal, was recently in New Delhi and during an interaction at a Conference Counter Terror 2009, where he explained in detail about the state of security in the Indian malls, and also on what exactly needs to be done to ensure that the same is terror proof.
Excerpts from his discussion
Security in our shopping malls is a sham as on today. It is more of a free walk into the malls. We have often discussed this with various malls owners, but each one only seems worried about the cost. They will do everything to reduce the cost factor, and one of the primary victims in this 'cost-cutting business' is the security that directly puts the life of every shopper at risk.
Each shopping mall has a security system in place. Off late, we have been receiving reports that terror outfits find it easy to hack into these systems, and in a matter of seconds, they have the entire security system on their charts. This is extremely dangerous and measures ought to be taken to ensure their safety.
A Mumbai type attack
Lets us assume that there is a Mumbai type attack on one of the malls. It will be very difficult to overcome the terrorists in the present scenario that we have. None of the malls in the country have the capabilities to tackle such a situation. During such a scenario, the commandoes will be called in for operation. It is difficult to enter through the entry and exit points. Hence the only option would be to storm in the building from the rooftop. The strange part is that the malls do not have anchors on the rooftop to help commandoes. Such an event will only leave our security forces wondering from where they could enter and battle the terrorists.
Each mall in the country ought to have a blue print of the mall readily available. During a terrorist attack, it is easier for the security agencies to refer to such a blue print so that they could plan the next course of action. During a terrorist attack, it would be difficult to avail a blue print from the mall management and hence a blue print must be readily available outside the mall for the security agencies.
Day-to-day security
Security on a daily basis is a must. The problem is immense during festivals when the malls are jam-packed. In fact when there is a festival, I pray hard that this day passes off without any casualty. The mall management often speaks about cost cutting. It is the people who need to be safe. I request all the people visiting the malls to be on the look out at all times. They ought to report if they find any suspicious movement in the malls. What I am trying to say here is that every shopper has to be the 'eyes and ears' of the government. Even the workers in the mall should bear this in mind. What I have been noticing is that the people are indifferent and this attitude ought to change and they must realise that malls are primary target for any terrorist organisation.
Retina analysis
This is a compulsory feature that every mall in the country needs to introduce. There is a security agency in every mall that keeps a watch on the movement of people through close-circuit televisions, but this is not helpful. Terrorists, who walk into a mall, will do so very normally. During a terrorist training programme, they are taught this over and over again. They are trained for hours to walk normally so that the CCTVs do not pick up any suspicious movement. However, it has been proven scientifically that the best way to pick up suspicious movement in crowded places is through the eyes. The eye movement of a terrorist is never normal and this can be picked up through retina analysis, and hence such systems ought to be in place in every mall.
Photograph: Reuters