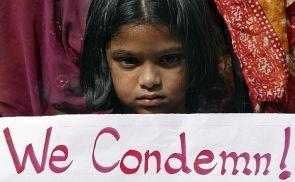 A four-year-old girl was raped allegedly by a school bus attendant, who lured her to the backseat of the vehicle on the pretext of showing her a magic trick, in neighbouring Thane district.
Twenty-seven-year-old Sandip Karve was arrested on Saturday, eight days after he allegedly sexually assaulted a KG student of an English medium school at Badlapur in the district.
"The incident came to light after the girl complained of intense pain and was hospitalised, following which the police were informed and arrested him," said a local police officer.
He said that eight days ago the girl and her friend were alone in the bus, which was parked in the school premises, when Karve entered the bus, took the girl to the back of the bus on the pretext of showing her a magic trick, and sexually assaulted her.
"The child cried for help and her friend -- of the same age -- walked to the back of the bus, but Karve threatened both of them, asking them to keep quiet," the officer said. Later, as other children returned to the bus, Karve
travelled with them as usual, dropping all of them at their respective places.
He has been booked under section 376 (rape) of the Indian Penal Code and the Protection of Children From Sexual Abuse Act, 2012.
"We will also record statements of other children in the school to find out if he had committed similar crimes in the past," the police official said.

Image: A girl participates in a protest against increasing sexual crimes against women in India