I have yet to hear a public debate in which someone has not blamed women being out late for the unwelcome attention they get, says Sherna Gandhy.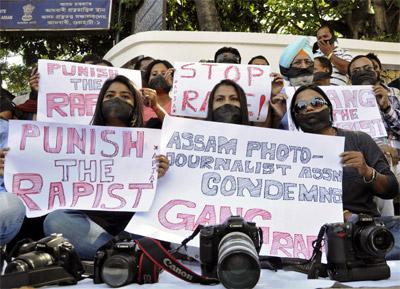 Unfortunately, says Gandhy, rape is not seen as the utterly heinous act it is.
Not by large numbers of the public who think it is an occupational hazard of being a woman -- nor by the law enforcement agencies.
Some incidents of rape get highlighted, are extensively covered in the media and in discussions in drawing rooms across the country.
That is a good thing, but two things stand out from this sort of publicity: One, the astonishing number of ridiculous causes and solutions that are aired and often gain currency, and two, the tendency to extrapolate all sorts of theories and ideas about rape only from the particular type of rape that gets high-voltage coverage.
The issue of rape began to be seriously discussed in India the 1970s after a 16-year-old tribal girl, Mathura, was raped in a police station in Maharashtra. Until then, there was very little written or said about rape.
Eve's Weekly, the women's magazine I worked for at the time, covered the 'Mathura rape case', as it came to be known, extensively. We even brought out a special issue on the subject of rape, where for the first time in this country probably, the subject was thoroughly and insightfully covered (unlike the completely unenlightening shouting matches that we have seen on television recently).
In the 1970s, what we now call 'myths' about rape were considered gospel truth. Such as that sex-deprived or mentally insane men committed rape, that women were in various ways to blame (and even that it was a woman's secret fantasy), that women who had had sex outside marriage could not really be considered to have been raped and so on.
With feminists taking up the issue -- which later also included other forms of violence against women such as sati and dowry, and more recently marital or domestic violence -- laws were gradually introduced that set aside these myths and made convictions for rape easier (though, ironically, conviction rates have not gone up but down).
What has not changed, though, is the way people think. Not much anyway.
The way women dress and their 'daring' to be out late at night, and assumptions about their character are still doing the rounds as energetically as they did in the 1970s when rape was not much written or spoken about and ignorance could be said to be an excuse.
I think this happens because the kind of rape that gets highlighted lends credence to these assumptions, since they often involve working or college-going women, who are out of their homes.
I have yet to hear a public debate in which someone has not blamed women being out late for the unwelcome attention they get.
However, anyone working in the field of women's issues, as well as whatever crime statistics are published, will tell you that women are most often raped in their own homes. That little children are raped. That women are raped as revenge for something their menfolk did, or for reasons of caste, of religion, or to demonstrate military might.
Since these kinds of rapes don't go beyond a small paragraph, on an inside page of newspapers, the impression is created that rapes occur only of middle class women in urban settings often by lower class men, thus spawning all sorts of sociological theories about economic deprivation, migration, the rich-poor gap, unemployment etc being the cause.
There is a reason, of course, why rapes that occur in urban areas, often in settings that are not usually associated with crime -- such as the heart of Mumbai or Delhi -- and to women who are empowered and educated and will speak out, get so much attention.
The urban educated whose voices are dominant in the media, are eager to speak out about such a crime and condemn it because it affects them most nearly -- it could easily happen to someone they know.
Politicians are equally eager to be seen to be doing something because of the adverse publicity that is generated by a powerful section of the electorate if they fail to react.
Newspapers and television channels get to latch on to an emotive issue that can get them the eyeballs they crave.
Much -- if not all -- of this anger and outrage is quite genuine. But it really doesn't help in any way to give us any insights into the proliferation of this abhorrent crime and how it should be tackled.
There is no one-stop solution, of course. Many things have to work together to control crime, any kind of crime.
I am a firm believer in the weight of public opinion, and thorough and unbiased investigations by the police to get the necessary evidence and consequent convictions, as a means of controlling crime.
Unfortunately, rape is not seen as the utterly heinous act it is -- not by large numbers of the public who think it is an occupational hazard of being a woman -- nor by the law enforcement agencies.
The former goes into a deep sleep when women outside of state capitals are assaulted (Bhanwari Devi? Rameeza Bi? Maya Tyagi -- who are they?) and the latter puts in some hard work to nab the culprits mostly when goaded by their publicity conscious political masters, as in the Delhi and Mumbai cases.
There are 13,000 rape cases pending in various courts in Maharashtra as of 2012 and in that year there were 1,500 reported rapes.
The media -- which dictates what we come to know and what we don't, and how much we should care, based on the prominence of its coverage -- has to go beyond the quest for TRPs and high circulation and get serious about its coverage.
Just covering an issue is not enough; it is how you cover it that matters.
It is irrelevant whether you are the first to interview the watchman or the neighbour of the survivor, or whether you get shrill politicians from opposing parties to engage in a verbal blame-game.
Speaking and writing with some knowledge about the subject, so that audiences are enlightened and shed their prejudices, is far more important.
In the early 1980s, when the Mathura case was finally decided in the Supreme Court, the shocking verdict went in favour of the accused policemen because the honourable judges at that time held that there were no marks of physical injury on the victim and so she must have been a willing partner.
In the intervening decades, maybe the courts have become a little wiser and can distinguish between willingness and enforced consent. Such kinds of changes are as necessary in jurisprudence as they are in public perception and in the manner in which criminal investigations are conducted.
Image: Members of the All Assam Photojournalists Association protest against the rape of the Mumbai journalist in Guwahati. Photograph: Utpal Baruah/Reuters