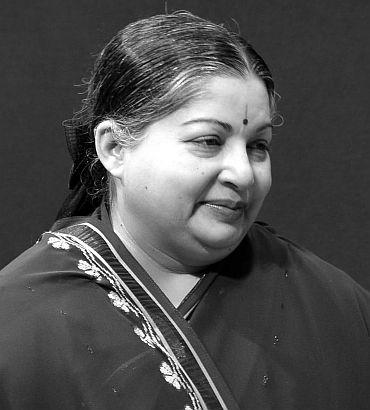 The Supreme Court quashed on Wednesday a criminal proceeding against Tamil Nadu Chief Minister J Jayalalithaa, initiated for filing four nomination papers in the 2001 Assembly polls, and asked the Madras high court to re-examine its order to lodge the case against her.
A bench of justices H L Dattu and C K Prasad asked the high court to re-examine the case against the All India Anna Dravida Munnetra Kazhagam chief after it was alleged that two reports of the Returning Officer were not considered by the high court while passing the order.
The bench asked the high court to examine the issue within four months. The apex court's order came on Jayalalithaa's plea against the high court order to the Election Commission to register a criminal case against her for filing the multiple nominations.
Jayalalithaa had filed nominations in Andipatti, Krishnagiri, Bhuvanagiri and Pudukottai constituencies. All were rejected as she had been disqualified from contesting the polls at that time due to her conviction in the TANSI land deal case.
A former Dravida Munnettra Kazhagam Member of Parliament C Kuppusamy had moved the high court against her and the court in June 2007 had directed the poll panel to register a case against her but the order was stayed by the Supreme Court in July 2007.


The high court had held that Jayalalithaa's declaration in the third (Bhuvanagiri) and fourth (Pudukottai) constituencies that she had not been nominated from more than two segments was 'false to her own knowledge and amounts to violation of Section 33(7) (b) of the Representation of the People Act (as per which a candidate cannot contest from more than two constituencies).'
The apex court on Tuesday had pulled up Jayalalithaa for filing four nominations during the 2001 Assembly polls. "You had held top post in the state and held post only below to his excellency. You are a public figure in the state and you run a party. How can you do this?" it had said.
The apex court had also criticised the RO of the EC for not initiating proceedings against her after she filed multiple nomination papers.
"Here is the returning officer who wanted to tow the line of this lady," the bench had observed. The bench had also said the high court was not right in directing the EC to register the case and it should have just directed the RO to re-examine the issue.