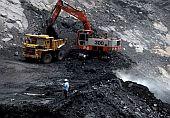 The Supreme Court on Monday issued a notice to the central government and the Central Bureau of Investigation after a Public Interest litigation filed in connection with the coal blocks allocations controversy.

The PIL filed by an NGO and some bureaucrats, demands a Special Investigation Team to probe into the allegations of unfairness and arbitrariness in the allocation of 194 coal blocks.

However, the court has refused to stay the government's decision by which coal blocks were allocated to the various public and private sector units and directed to tag this petition with other petitions pending on same issue.

Meanwhile, the Inter-Ministerial Group on coal may on Monday take a decision on 14 coal blocks allocated to public sector units.

The IMG had examined 33 coal blocks allocated to PSUs on October 9 and 10, which were issued notices for delays in production.

The panel had recommended de-allocation of eight such blocks after scrutiny of 19 cases of public sector firms earlier this month.

The government has already accepted the de-allocation of 13 blocks to private firms as recommended by the IMG, and has also asked for the imposition of bank guarantees in six cases and deduction in two cases.

A total of 58 mines were issued show-cause notices for their failure to develop blocks within stipulated timeframe and failed to give satisfactory explanations for that.