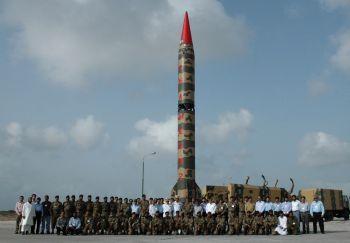 Saudi Arabia has invested in Pakistani nuclear weapons projects and believes it could acquire atomic bombs "at will", the BBC reported on Thursday.
Saudi Arabia's quest has often been set in the context of countering Iran's atomic programme though it is now possible that the Saudis might be able to deploy nuclear devices more quickly than Pakistan, said the report that quoted unnamed Western and Pakistani officials and intelligence operatives.
"Earlier this year, a senior NATO decision maker told me that he had seen intelligence reporting that nuclear weapons made in Pakistan on behalf of Saudi Arabia are now sitting ready for delivery," said Mark Urban, diplomatic and defence editor of BBC's Newsnight programme.
Last month Amos Yadlin, a former head of Israeli military intelligence, told a conference in Sweden that if Iran got the bomb, "the Saudis will not wait one month. They already paid for the bomb, they will go to Pakistan and bring what they need to bring".
Since 2009, when King Abdullah of Saudi Arabia warned visiting US special envoy to the Middle East Dennis Ross that if Iran crossed the threshold, "we will get nuclear weapons", the country has sent the US numerous signals of its intentions.
Gary Samore, who was US President Barack Obama's counter-proliferation adviser until March, said, "I do think that the Saudis believe that they have some understanding with Pakistan that, in extremis, they would have claim to acquire nuclear weapons from Pakistan."
The report said the story of Saudi Arabia's project -- including the acquisition of missiles capable of delivering nuclear warheads over long ranges -- goes back decades.
In the late 1980s, the Saudis secretly bought dozens of CSS-2 ballistic missiles from China, the report said. These rockets, considered by many experts too inaccurate for use as conventional weapons, were deployed 20 years ago.
"It has also been clear for many years that Saudi Arabia has given generous financial assistance to Pakistan's defence sector, including, Western experts allege, to its missile and nuclear labs. Visits by the then Saudi defence minister Prince Sultan bin Abdulaziz al Saud to the Pakistani nuclear research centre in 1999 and 2002 underlined the closeness of the defence relationship," the report said.
It said some experts think it is a cash-and-carry deal for warheads while others believe it is an arrangement whereby Pakistani nuclear forces could be deployed in the Kingdom.
However, Samore was quoted as saying that giving Saudi Arabia nuclear weapons would be a "very provocative action".
Meanwhile, Pakistan rejected the BBC report about alleged nuclear cooperation between it and Saudi Arabia, describing it as "entirely baseless and mischievous".
Pakistan is a responsible nuclear weapons state with robust command and control structure and comprehensive export controls, Ministry of Foreign Affairs said in a statement in Islamabad.
It said Pakistan supports objectives of non-proliferation as well as nuclear safety and security.
"As a responsible nuclear state, Pakistan is fully aware of its responsibilities.
"Pakistan's nuclear programme is purely for its own legitimate self defence and maintenance of a credible, minimum deterrence," it said.
The ministry spokesman attention to the joint statement by Prime Minister Nawaz Sharif and President Barack Obama issued last month, which referred to President Obama's appreciation of Pakistan's constructive engagement with the Nuclear Security Summit process and its cooperation with the International Atomic Energy Agency and other international forums.
At the same time, President Obama acknowledged Pakistan's efforts to improve its strategic trade controls and enhance its engagement with multilateral export regime, the statement said.
Sharif affirmed Pakistan's support for the universal objectives of non-proliferation and disarmament.
President Obama reiterated his confidence in Pakistan's commitment and dedication to nuclear security and recognise that Pakistan is fully engaged with the international community on nuclear safety and security issues.
"There can be no better affirmation of the international community's recognition of Pakistan's commitment and adherence to the goals of non-proliferation," the statement added.
Image: Scientists, engineers and army personnel pose for a photograph before the test flight of a Hatf-VI (Shaheen-II) missile, in Pakistan.
Photograph: Reuters