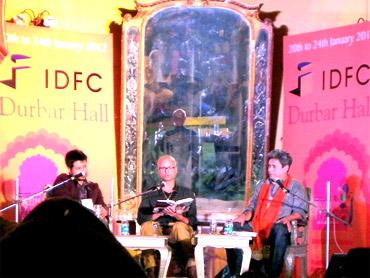 Cheered on by the audience, authors read out passages from The Satanic Verses on the first day of the Jaipur Literature Festival, reports Abhishek Mande.
It was a day of drama at the Jaipur Literature Festival 2012 -- the day began in anticipation of whether Salman Rushdie would attend the event or not.
By lunchtime, we had word from the New York-based novelist that he would skip the Jaipur LitFest.
Watch his statement being read out right here: Salman Rushdie: I will NOT travel to Jaipur as planned
And just as we were wrapping up for the day, word got around that authors were reading out passages from Rushdie's The Satanic Verses, the novel which earned him a fatwa from Ayatollah Khomeini on Valentine's Day in 1989 and has been banned in India for over 23 years.
According to reports, British novelist Hari Kunzru read out the passages during his session with America-based writer Amitava Kumar, whose reading was stopped by the organisers.
On his Twitter account, Rushdie first thanked Kunzru and Kumar. But when he heard that Kumar was stopped, he tweeted, @amitavakumar says organisers asked him not to continue reading from Satanic Verses." Willie, Sanjoy: why did this happen?
Willie and Sanjoy refer to writer William Dalrymple and Sanjoy Roy, lead organisers of the Jaipur LitFest.
At the end of the final session of the day -- one featuring poet-novelist Jeet Thayil, novelist-journalist Ruchir Joshi and graphic novelist Samit Basu -- Thayil and Joshi began reading out a passage.
At first, no one seemed to know why, until names of familiar characters began appearing in the readings. There was a soft gasp, a stray clap and a loud "ha!" at the realisation that the passages were indeed from The Satanic Verses..
Thayl and Joshi read them out one after another. The reading was followed by loud cheers and thunderous applause.
Joshi announced that the extract he was reading out was downloaded off the Internet and encouraged the audience to engage in reading of banned passages in public.
It was not long before the media got wind of what had occurred and thrust their microphones at Joshi, who seemed happy to speak till he was whisked away by Sanjoy Roy, the festival director.
Last heard, Joshi and novelist Namita Gokhale -- one of the LitFest's founders -- were having a rather loud argument over what happened, as Thayil looked on.
Image: The session featuring Jeet Thayil, Ruchir Joshi and Samit Basu, where a passage from The Satanic Verses was read out later | Photograph: Abhishek Mande/Rediff.com