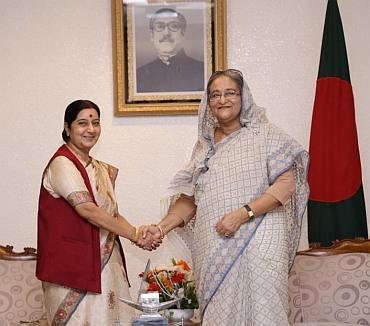 External Affairs Minister Sushma Swaraj on Thursday presented a cream-coloured south silk sari to Bangladesh Prime Minister Sheikh Hasina, who in return gifted the famous Bangladeshi Jamdani sari to the visiting Indian leader.
Swaraj, who is on her first stand-alone foreign visit after taking office a month ago, called on Hasina, who received the minister at the reception of her office, in a departure from the normal protocol.
Hasina hugged Swaraj and greeted her warmly.

The External Affairs Minister gave the sari which was personally chosen by her for the Bangladeshi premier. Reciprocating the gesture, Hasina gifted the Jamdani sari to Swaraj.
This comes after Prime Minister Narendra Modi's shawl diplomacy.
After his swearing-in ceremony last month for which he had invited Pakistan Prime Minister Nawaz Sharif along with other SAARC leaders, Modi had gifted a shawl to Sharif for his mother.
In a reciprocal gesture, Sharif gifted a sari for Modi's mother.