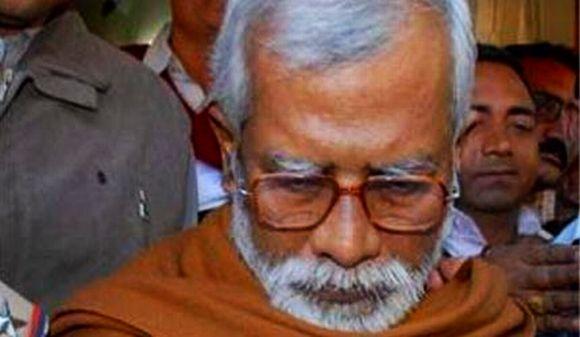 Swami Aseemanand, an accused in 2007 Samjhauta Express blast case, was granted bail by the Punjab and Haryana high court but he is unlikely to come out of jail as he is facing a trial in two other blast cases.
A division bench comprising Justice S S Saron and Justice Lisa Gill granted bail to Aseemanand, a member of right wing Hindu group 'Abhinav Bharat', who has been in jail since December 2010. Aseemanand also stands accused in blasts in Hyderabad Mecca Masjid and Ajmer Dargah in 2007.
During the hearing on the bail plea, which was going on for the past three days, Aseemanand's counsel Satyapal Jain on Thursday contended that there was no evidence of the accused's involvement in the case.
Only 35 out of total 299 witnesses have been examined in the case during almost four years, the defence counsel said, adding that he has been "falsely implicated" in the case. However, the prosecution placed the entire record before the court.
Jain told reporters outside the court that Aseemanand was granted bail on certain conditions.
The conditions included that he will not leave the country without prior permission of court; he will attend each and every hearing fixed by trial court Panchkula; and he will not influence the witnesses, Jain said.
Earlier, Panchkula's National Investigation Agency court had rejected Aseemanand's bail application after which he had moved the high court.
On December 26, 2010, Aseemanand was arrested by the Central Bureau of Investigation from Haridwar in Uttarakhand for his alleged role in the 2007 Mecca Masjid blast in Hyderabad in which 14 persons were killed.
The NIA had questioned Aseemanand about his role in the Samjhauta Express blasts on February 18, 2007. As many as 68 people were killed in the blasts in two coaches of the train in Panipat. Aseemanand, who is lodged in the Ambala jail, had recently moved an application before the high court seeking his release on bail.
In his plea, Aseemanand had argued that there was not an iota of evidence with the prosecution to establish the case against him. Aseemanand also submitted that he has been in custody for the past four years and there are around 300 witnesses in the case, of whom some are in Pakistan and it would take years to complete the examination of all the witnesses.
The special NIA court in Panchkula on November 30, 2013 had dismissed his bail plea accepting the probe agency's argument that letting out Aseemanand on bail would have been detrimental for the prosecution.
The NIA had also argued that since some of the accused involved in the case are still at large, Aseemanand could tamper with investigation. The special NIA court in Panchkula had framed charges against Aseemanand and three other co-accused on January 24 this year for planning and executing an act in which 68 people were killed and several others injured.
Aseemanand and other co-accused were charged with murder and sedition.
The charges were framed under Section 120-B (conspiracy), 302 (murder), 307 (attempt to murder), 124-A (sedition), 438 (punishment for mischief with intent to destroy a decked vessel with explosive substance) and 440 (mischief committed after preparation made for causing death) of the IPC.
Sections under which charges were framed include Section 151 (destruction of certain railway properties), 153 (endangering safety of persons travelling by railway by willful act) of the Railways Act, Section 3 (punishment for causing explosion likely to endanger life or property) and 4 (punishment for attempt to cause explosion or keeping explosive with intent to endanger life or property) of the Explosive Substances Act.

Image: Swami Aseemanand