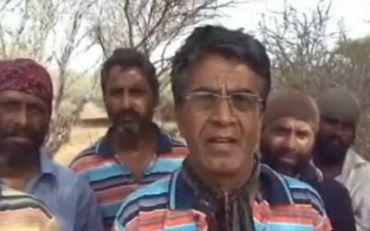 A group of sailors taken hostage by Somali pirates nearly two years ago have appealed to the government to get them released from captivity.
The video appeal by the sailors, who were earlier kept hostage by the pirates onboard merchant vessel MV Asphalt Venture, has surfaced on the Internet.
In the appeal, Chief Engineer Bahadur Singh said their health was deteriorating. "We are fed up. We are mentally tensed all the time. Our health is not good. Please save us," he said.
The sailors' families have also appealed to the government.
Singh said the pirates have brought the ship to Somalia and they were in captivity for the past 22 months.
"They have released the ship and now we are in their custody. Our owner had fulfilled their demands but they caught seven of us and brought us to the land.
"Our condition is very bad. I don't know what action is the government taking...We are requesting President (Pranab Mukherjee), Prime Minister (Manmohan Singh) and UPA Chief Sonia Gandhi and Opposition Leader Sushma Swaraj to please save us.
"We want our lives, please help us, please save us," he said.
Image: A TV grab of the appeal video