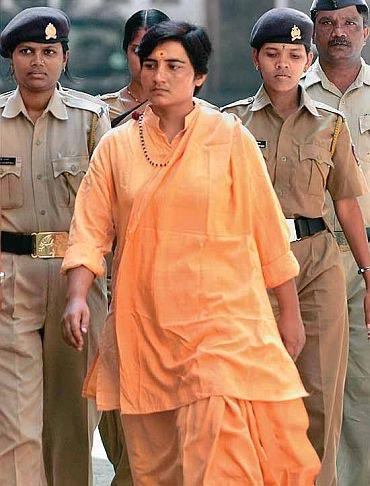 The bail plea filed by Malegaon blasts accused Sadhvi Pragya Singh will be heard on December 14 by the Bombay high court.
The matter has been listed to be heard at 3 pm. Pragya, who is currently lodged at the district Jail in Bhopal underwent a CT scan and dozens of tests in Jawaharlal Nehru Hospital over the last week, where she is facing the trial in the Sunil Joshi murder case.
In her bail plea, apart from emphasising her total innocence and her false implication in the blasts case, she has also relied upon the medical certificate dated July 5, 2012 issued by Dr Sameer Path attached to the Indian Cancer Society which clearly mentions 'invisive ductal carcinoma, right breast histologic grade III'.
It may be recalled that Maharashtra's Anti-Terrorism Squad had filed a chargesheet against Pragya, apart from Colonel Purohit and others, on the basis of CrPC 164 statements recorded by two Madhya Pradesh residents, Subhash Chandra Bairagi and Vijay Nahar.
They subsequently filed private complaints against ATS officers on November 26, 2008, before JMFC Indore, alleging torture, intimidation and beating for forcing them to make such statements as per their 'diktat' before the additional metropolitan magistrate, Girgaum Mumbai on 22.10.2008, a day prior to her official arrest on 23.10.2008.