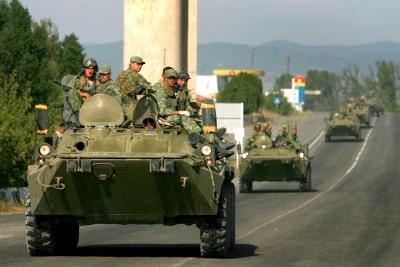 The UN Security Council is witnessing an acrimonious wrangling over the action it should take on the Georgian conflict, after a fresh draft resolution introduced by Russia on the issue was promptly opposed by the United States.
Will Russia-Georgia truce last?
Russia, which had earlier rejected a French draft resolution seeking withdrawal of its forces from Georgia and the breakaway South Ossetia, introduced its own resolution seeking endorsement of the six-point French plan to which it had agreed.
The draft was, however, opposed by the United States, and diplomats coming out of closed door consultations said with veto wielding permanent members opposing each other, the Council is set for a bitter wrangling over the issue.
One of the contentious points is the issue of territorial integrity of Georgia. The six-point plan does not mention it but the US and its allies would like to stress on it so as not to give the impression that they support independence for South Ossetia and Abkhazia, the two breakaway regions.

The six-point plan simply says that international discussion would be opened on lasing security and stability arrangements for the two regions.
The Russian resolution mentions the six points and says that the Council should call upon the parties concerned to implement it in good faith.
Western diplomats, however, said the issue is much more complex and the resolution does not take into account the clarifications issued by France.
Expressing its strong opposition, American deputy Ambassador to the UN Alejandro Wolff said Washington could not agree to mere rubber stamping a 'Russian interpretation' to which the United States does not agree.
But Russian Ambassador Vitaly Churkin said he hoped for a positive response from the Council members.

"No one can object to the Security Council endorsing the six principles of the Russian and French presidents which form the foundation of the current efforts to normalise the situation."
The diplomats might now begin the difficult and time-consuming task of harmonising the two vastly different drafts. Several diplomats expressed their scepticism about an acceptable draft emerging.
Asked about it, Churkin said there is nothing for experts to discuss as Russian draft simply mentions the six principles to which all have agreed.
Trouble erupted on August seven when Georgia sent troops to capture breakaway South Ossetia, which had Russian peacekeepers. Moscow responded with overwhelming force destroying Georgia's infrastructure and military bases which had been built with American help.
Asked when the Georgian army would go back to their permanent bases, American Deputy Ambassador Wolff said they have no such bases to go back to. They have been destroyed by the Russians.
French Deputy Ambassador Jean-Pierre Lacroix said the draft submitted by him remains on the table and that Paris wanted implementation of the six-point plan but that would depend on Russian withdrawal.

Image: Russian soldiers sit atop tanks in a column of armoured vehicles on the road from Tbilisi to Gori just outside Gori, Georgia.
Text: PTI | Photograph: Uriel Sinai/Getty Images