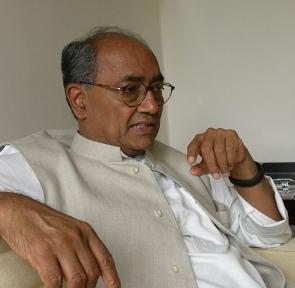 Congress General Secretary Digvijaya Singh on Saturday took potshots at the Bharatiya Janata Party over the latter's decision to nominate Narendra Modi as its prime ministerial candidate, saying the party has succumbed to threats from the Rashtriya Swayamsevak Sangh, and wondered if the Sangh could still call itself a "cultural organisation".
"The BJP succumbs to threats of RSS and Ramdev and declares Modi as BJP's PM candidate. Do we still call RSS as a Cultural Organisation," Singh said on micro-blogging site Twitter.
Modi was on Friday anointed the PM candidate by the BJP after a go-ahead from the RSS. It ignored the opposition from party patriarch L K Advani to Modi's elevation.
Congress General Secretary Shakeel Ahmad, meanwhile, alleged a larger conspiracy by BJP President Rajnath Singh in Modi's elevation.
He wondered if the move is an attempt to sideline Advani and Leader of the Opposition in Lok Sabha Sushma Swaraj, both of whom were contenders for the PM post till Friday.
"Is Rajnathji, with the help of RSS, using Modiji to sideline Advaniji & Sushmaji for his own chance, when Modiji will be rejected in 2014?" Ahmad said on Twitter.